Radical Humility: Essays on Ordinary Acts
Regular price
Sale price
$16.00 USD
Unit price
per
Sale
Sold out
Edited by Rebekah Modrak and Jamie Vander Broek
This innovative essay collection explores the personal and civic function of humility from a range of popular and scholarly perspectives. 
What does humility mean and why does it matter in an age of golden escalators and billionaire entrepreneurs? How can the cultivation of humility empower us to see success in failure, to fight against injustice, to stretch beyond our usual ways of thinking, and to foster a culture of listening in an age of digital shouting?
Edited by Rebekah Modrak and Jamie Vander Broek, Radical Humility: Essays on Ordinary Acts brings together contributions from scholars, psychologists, and artists to offer some answers to these questions. Contributions include:
Charles M. Blow on Trump's arrogance

Lynette Clemetson on doing good journalism in an age of the attention economy

Tyler Denmead on whiteness's lack of humility

Eranda Jayawickreme on learning how to admit what you don't know.

 
Having witnessed the personal and civic costs of narcissism and arrogance, these and other writers consider humility as a valuable process―a state of being―with the power to impact institutions, systems, families, and individuals, and give voice to the ways in which humility is practiced in many ordinary but extraordinary actions.
This groundbreaking collection deserves a place in the library of anyone seeking alternatives to a culture of self-aggrandizing excess.
Rebekah Modrak is a writer and interventionist artist whose artworks resist consumer culture. Re Made Co. (remadeco.org) poses as an online "company" to recreate actual company Best Made Co., seller of $350 luxury hand-painted axes, by promoting ($350) artisanal toilet plungers. RETHINK SHINOLA (rethinkshinola.com) guides viewers through the Shinola company's past and present of marketing White supremacy. Hyperallergic, Core77, The Creators Project, Detroit MetroTimes, Design Observer, and other publications, have written about her work. She is a Professor in the Stamps School of Art & Design at the University of Michigan. 
Jamie Vander Broek is an art librarian at the University of Michigan. She buys all kinds of art and design and artists' books for her library and runs a book arts studio where you can learn to print with metal type and make books by hand. A few years ago, she bought a book made of cheese for her library. You can read her essay about it on saveur.com. She holds a Master's degree from the U-M School of Information, and received a B.A. from Wellesley College. Since arriving in Ann Arbor, she has been active in the local art and book communities, and is currently on the board of the Ann Arbor District Library. She lives in a constantly under-construction house with her husband, daughter, and two out-of-control Miniature Australian Shepherds.
Praise for Radical Humility:
 "Radical Humility is a modest, unpretentious and honest collection of simple thoughts all of which converge towards one overarching principle. Inculcating and implementing the quality of humility."—Blogternator
"Reading empowers us. It teaches us. It makes us think about topics we haven't thought about before. ... Is this an easy read? No way. Is this a valuable read?  Absolutely."—Literature Lust
TABLE OF CONTENTS
Radical humility ...
an introduction, by Sarah Buss
as a new way of being in the world
"Free Yourself by Choosing the Plain Crackers," by Rebekah Modrak
"Escaping the Gravitational Pull of the Self," by Jennifer Cole Wright
"Zabeulah's Lesson," by Ruth Nicole Brown 
in order to learn and unlearn
"Loving Knowledge Together: Socratic Humility," by Agnes Callard
"Education Is a Space to Change Your Mind," by Troy Jollimore 
"Trump, Arrogance, and American Democracy,"  by Charles M. Blow 
as an alternative to hierarchy
"Reconstructing Humility: From Obedience to Respect," by Aaron Ahuvia and Jeremy Wood
"A Library Is for You," by Jamie Vander Broek 
"Humus and the Humble Leader," by Kevin Hamilton
to prevent harm
"The Soul of Medicine," by Richard C. Boothman 
"Admitting What You Don't Know is Hard to Do," by Eranda Jayawickreme
"Don't Be a Know-It-All: Or, How to Be a Better Friend," by Melissa Koenig and Valerie Tiberius
in the foreground and background
"Journalism in an Era of Likes, Follows, and Shares," by Lynette Clemetson 
"Textual Stealing? Copyright, Race, and Elusive Justice," by Gilbert B. Rodman 
"In-Between Spaces," by Ami Walsh
even in moments of humiliation
"The Loser's Guide to Winning: New Definitions of Success from Sport's Greatest Failures," by Mickey Duzyj
"Epic Failures in 3D Printing," by Nadia Danienta and Aric Rindfleisch 
"Humility vs. Humiliation in Old Age," by Russell Belk 
as possibility
"Whiteness Is Never Humble, Even When It Is," by Tyler Denmead 
"My Journey from Tech Sector to Kitchen," by Kevin Em  
MARCH 16, 2021 | ISBN: 978-1-948742-96-2 | PHILOSOPHY | 5 X 7.25 | PAPERBACK | $16.95
Share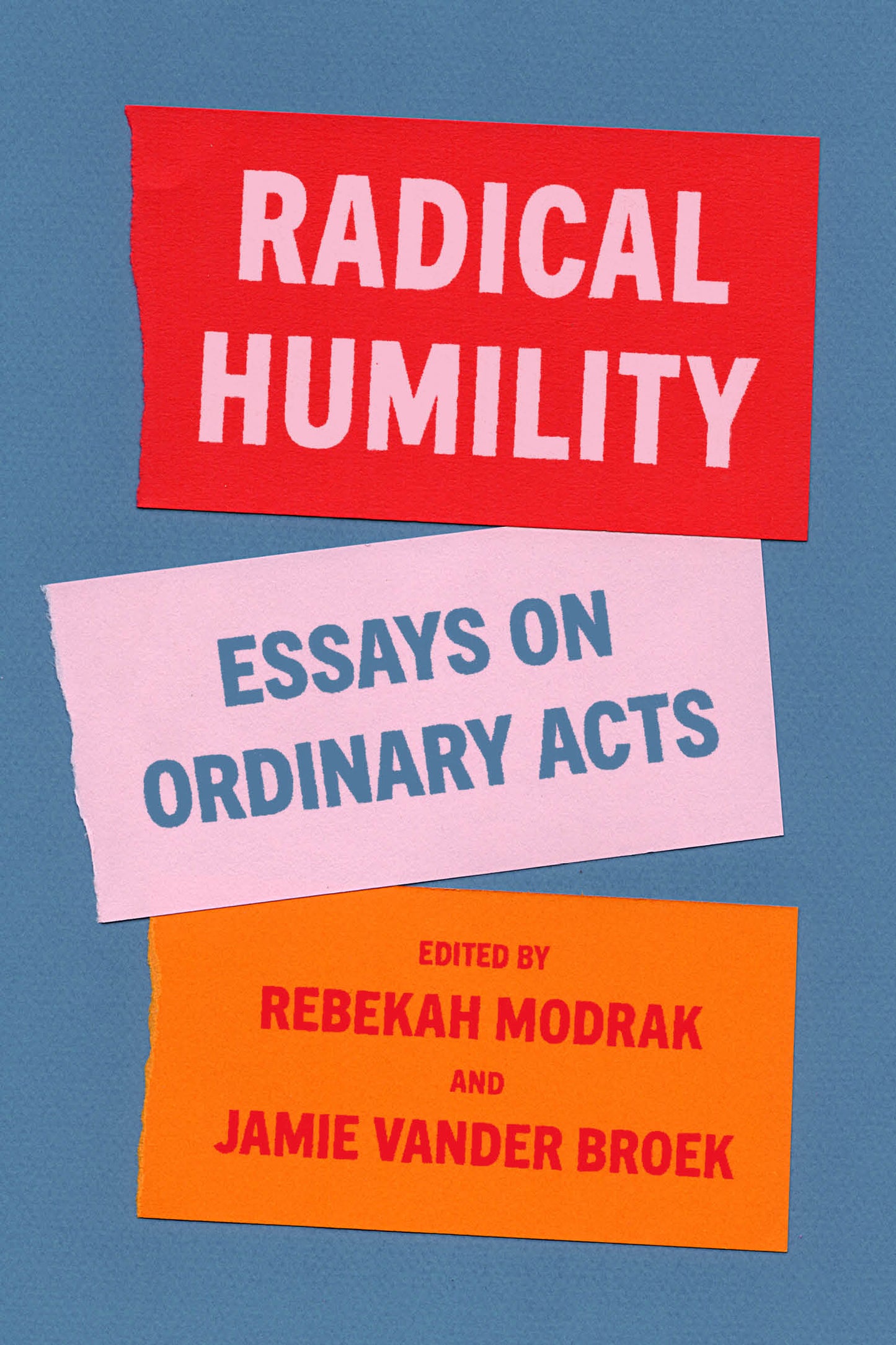 Special Offers and Discounts

Keep up with the newest title, sales, and events (plus the occasional meme) from Belt Publishing by signing up for our newsletter. It's only once a week—no cluttering up your inbox.