Conspiracy to Riot: The Life and Times of One of the Chicago 7
By Lee Weiner
A memoir of a life in activism by one of the original defendants in the Trial of the Chicago 7, subject of the 2020 Oscar-nominated Aaron Sorkin film of the same name.
In March 1969, eight young men were indicted by the federal government for conspiracy to incite a riot at the 1968 Democratic National Convention. First dubbed the "Conspiracy 8" and later the "Chicago 7," the group included firebrands like Abbie Hoffman, Jerry Rubin, and Bobby Seale. But it also included a little-known community activist and social worker from the South Side of Chicago named Lee Weiner, who was just as surprised as the rest of the country when his name was included in the indictment. The ensuing trial of the Chicago 7 became a media sensation, and it changed Weiner's life forever. In this irreverent, freewheeling memoir of an indelible moment in history—which Kirkus Review called "a welcome addition to the library of the countercultural 1960s left"—Conspiracy to Riot shows how a commitment to your ideals can change your destiny forever.
With startling relevance to today's polarized political climate, Conspiracy to Riot is a book for anyone who hopes for a better, more just world, and offers a blueprint for how to make it happen.
Lee Weiner was born and raised on Chicago's South Side. His activist life began with free-speech demonstrations at the University of Illinois in 1960, included community organizing in desperately poor neighborhoods in Chicago, and led to his indictment in the notorious trial of the Chicago 7 in 1969. His later political work included direct response fundraising for members of Congress and national non-profit organizations. Along the way, he collected a couple of master's degrees and a PhD in sociology. He now lives in Florida.
More praise for Conspiracy to Riot:
"A book that should be shelved alongside Mark Rudd's Underground and Pat Thomas's Did It! Weiner closes with a stirring paean to activism. ... A welcome addition to the library of the countercultural 1960s left."—Kirkus Reviews
"A new memoir by Lee Weiner — the member of the Chicago Seven that was actually from the city — gives fresh insight into how the 1968 Democratic National Convention protests and trial really went down."—Chicago magazine
"Looking back on the trial and the generational convulsion it was a part of, Weiner refreshingly doesn't swear off his old allegiances or political ideals."—Chicago Book Review
"The vigor and solidarity involved are all feelings that make the work infectious—and keep it ongoing. Conspiracy to Riot chronicles the moments from Lee Weiner's life that forged him as someone willing to jump atop cars with a bullhorn, be a helping hand for families in Woodlawn and Cabrini-Green, fend off police officers to de-arrest comrades, and inspire a generation of movement organizers to continue fighting for a more equitable America. The stories in this memoir could serve as a mirror for some, and a starting point for others."—Malik Jackson, South Side Weekly 
Hardcover: 
AUGUST 4, 2020 | ISBN: 9781948742689 | MEMOIR | HARDCOVER | 5 X 7.25 |208 PAGES 
Now in paperback with a new afterword by the author! 
JULY 26, 2022 | ISBN: 9781953368225 | MEMOIR | PAPERBACK | 5 X 7 | 176 PAGES
See also: 
Share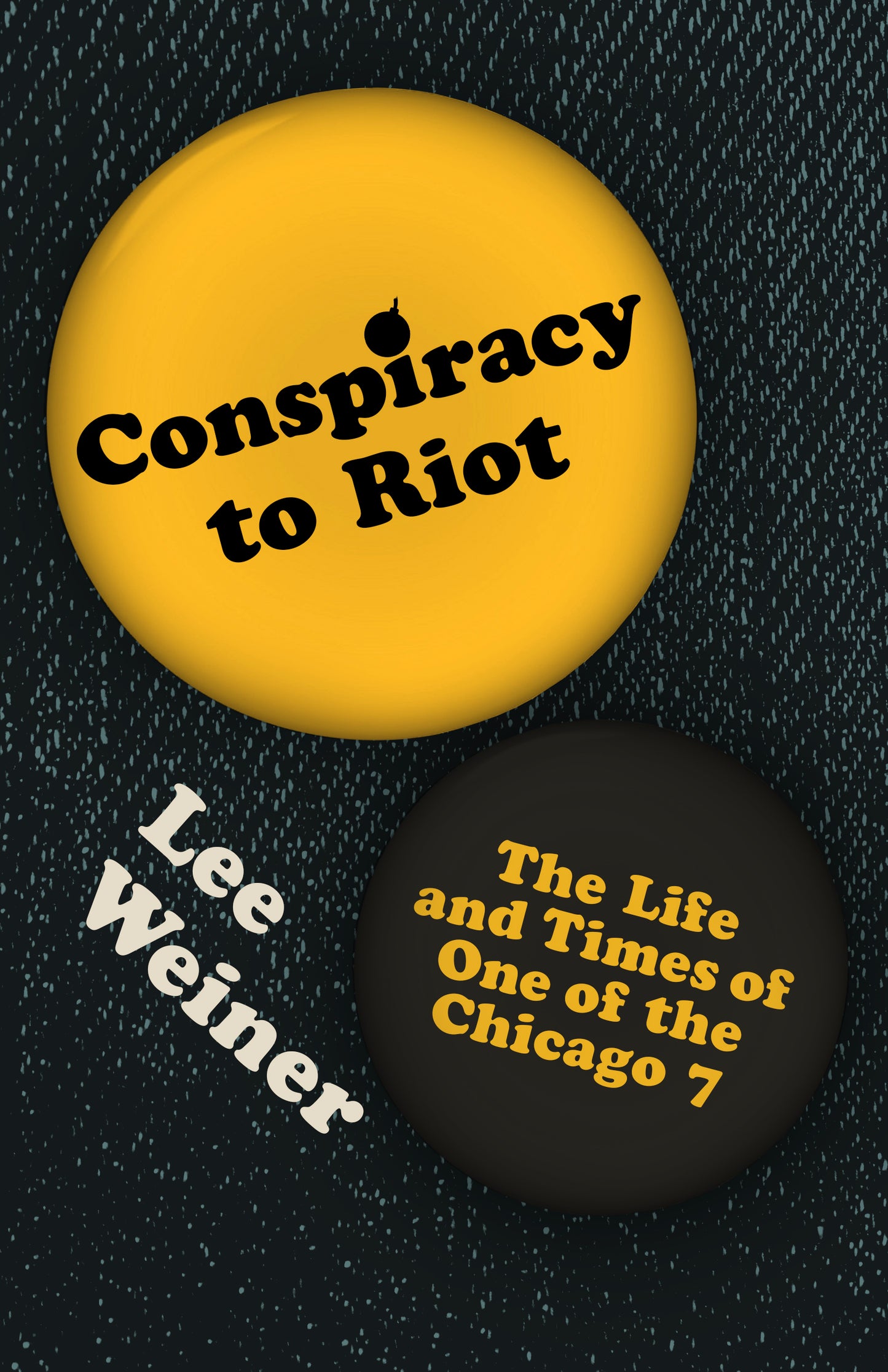 Special Offers and Discounts

Keep up with the newest title, sales, and events (plus the occasional meme) from Belt Publishing by signing up for our newsletter. It's only once a week—no cluttering up your inbox.