The Last Children of Mill Creek
Regular price
Sale price
$18.95 USD
Unit price
per
Sale
Sold out
2022 Missouri Author of the Year winner
Missouri's "Great Reads from Great Places" Selection for the 2023 National Book Festival
Now with added maps and photos!
Vivian Gibson's bestselling memoir of growing up in the 1950s in a segregated St. Louis neighborhood has been hailed by critics as "a spare, elegant jewel of a work" and "a love letter to Gibson's childhood."
Vivian Gibson grew up in Mill Creek Valley, a segregated working-class neighborhood in St. Louis that was razed in 1959 to build a highway, an act of racism disguised under urban renewal as "progress." A moving memoir of family life at a time very different from the present, The Last Children of Mill Creek chronicles the everyday lived experiences of Gibson's large family―her seven siblings, her crafty, college-educated mother, and her hard-working father―and the friends, shop owners, church ladies, teachers, and others who made Mill Creek into a warm, tight-knit African American community. In Gibson's words, "This memoir is about survival, as told from the viewpoint of a watchful young girl―a collection of decidedly universal stories that chronicle the extraordinary lives of ordinary people." 
Winner of a Missouri Humanities award for literary achievement, The Last Children of Mill Creek is an important book for anyone interested in urban development, race, and community history―or for anyone who was once a child.
Vivian Gibson was raised on Bernard Street in Mill Creek Valley, and has lived in New York City and Liberia. She started writing short stories about her childhood memories after retiring at age sixty-six. Her work has been produced as part of "50in50: Writing Women Into Existence," at the Billie Holliday Theater in Brooklyn, and published in The St. Louis Anthology (Belt Publishing, 2019). The winner of the 2020 Missouri Humanities Literary Achievement Award, she lives in St. Louis.
Praise for The Last Children of Mill Creek:
"This memoir offers a rare view of a since-levelled mid-century community through the eyes of one of the last children to live there.... By declining to add layers of explicit retrospective analysis, [Gibson] makes her childhood world strikingly immediate, and the book's narrative structure reinforces the impression that you have been directly plunged into her memory."—Megan Marz, Times Literary Supplement
"Gibson's memoir deals with coming of age, loss, the illusory quality of memory, race, and much more in a digestible 160-page package that one could tear through on a single weekend afternoon. It's written with a kind of literary efficiency, spare but descriptive, which leaves you feeling captivated and close to the momentum of the narrative."—Evan Wood, Missouri Life
"Book of the Year ... Vivid, unpretentious, loaded with resonant detail."—John Williams, First Things
"A critical addition to our understanding and preservation of the people who once lived in the thriving community that was annihilated by city leaders beginning 70 years ago."—Chris Naffziger, St. Louis Magazine
"A spare, elegant jewel of a work. ... The reader hears in it echoes of Zora Neale Hurston's rich, sensuous descriptions of rural Black culture in Their Eyes Were Watching God. At other times, Gibson's prose channels Gwendolyn Brooks's quiet attentiveness to the beauty and texture of everyday life in Maud Martha. ... The Last Children of Mill Creek is joyful, nostalgic, mischievous — a love letter to Gibson's childhood."—Ellen Wayland-Smith, The Los Angeles Review of Books
"Gibson's memoir offers an intimate retelling of her family's story, but also beautifully and truthfully documents the life and death of one African-American community in mid-twentieth century St. Louis. Childhood is, for most of us, where our true home resides, and The Last Children of Mill Creek is a tribute to Gibson's, one told with deep generosity, humor and love." —Angela Mitchell, author of Unnatural Habitats and Other Stories
"Gibson's words on paper are somehow both overdue and perfectly timed. Her perspective and stories about Mill Creek are a gentle—but firm—reminder of what exactly is lost during the slow march towards "progress." It is Gibson's intimate recounting of her parents, brothers, grandmother, and other neighbors that bring Mill Creek not back to life, but into focus, showing us that neighborhoods might disappear, but people do not. The Last Children of Mill Creek is not just a memoir, it's a window into a place, time, and community that St. Louis' establishment might otherwise have you forget—written with the familiarity, warmth, and love characteristic of an author who's only just getting started."—Ryan Schuessler, editor of The St. Louis Anthology
April 20, 2020 | ISBN: 9781948742641 | MEMOIR | PAPERBACK | 5 X 7.25 | 160 PAGES
See also: 

Share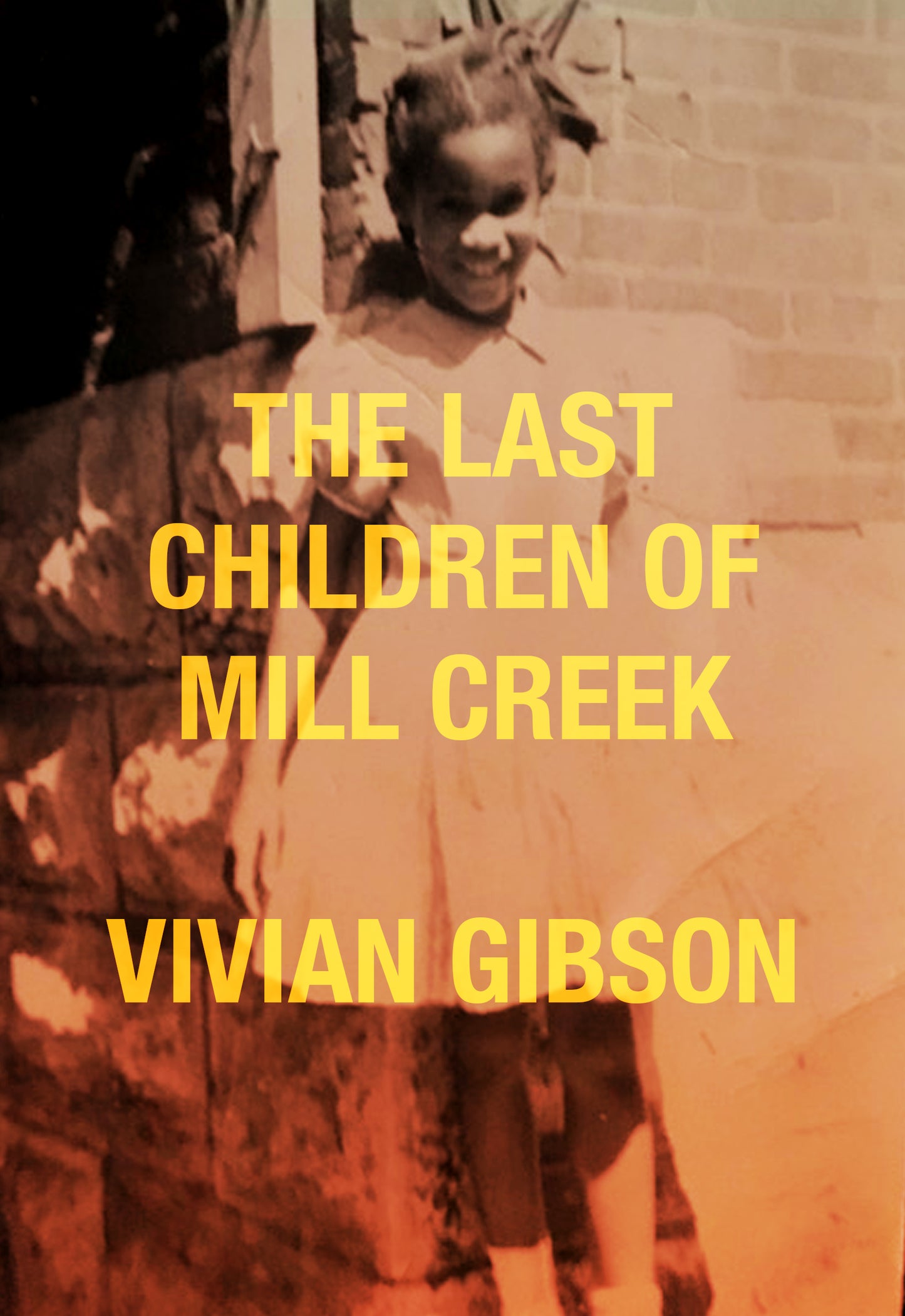 Special Offers and Discounts

Keep up with the newest title, sales, and events (plus the occasional meme) from Belt Publishing by signing up for our newsletter. It's only once a week—no cluttering up your inbox.