The Girls
Regular price
Sale price
$24.00 USD
Unit price
per
Sale
Sold out
By Edna Ferber
Introduction by Kathleen Rooney
March 28, 2023
From the best-selling author of Giant and So Big, a sweeping look at the lives of three generations of women on Chicago's South Side. Part of Belt's Revivals series and with a new introduction by Kathleen Rooney (Lillian Boxfish Takes a Walk).
First published in 1921, Edna Ferber's The Girls revolves around the "three Charlottes" of the Thrift family—Great-Aunt Charlotte, her niece Lottie, and Lottie's niece Charley. All single "old maids," as the narrator describes them, their lives weave together as they deal with issues involving money, work, friendship, family, and love as they strive to join Chicago's growing middle class in the early twentieth century.
With a historic span that travels from the Civil War to World War I, Ferber highlights how the three generations of Charlottes lead very different lives. But we also see the ways their experiences rhyme with one another and how, despite the social advances in America, as Kathleen Rooney writes in her introduction, all three have to confront "a sexist and claustrophobic societal atmosphere in which any little act of self-assertion can feel like a leap from a precipice."
Told through Ferber's assured and generous style, and full of her signature strong female characters, this rediscovered American classic deserves a spot on the shelf next to other great Chicago novels like Sister Carrie and The Adventures of Augie March.
---
Edna Ferber was born in 1885 in Kalamazoo, Michigan. After a short career in journalism, she turned to writing novels, short stories, and plays. She won the Pulitzer Prize in 1925 for her novel, So Big, and subsequent works went on to become best-sellers. Giant, which she published in 1952, became the basis of the hit film starring Elizabeth Taylor, Rock Hudson, and James Dean. She died in 1968 at the age of 82.
Kathleen Rooney is a founding editor of Rose Metal Press, a publisher of literary work in hybrid genres, and a founding member of Poems While You Wait, a team of poets and their typewriters who compose commissioned poetry on demand. She is the author, most recently, of the novels Lillian Boxfish Takes a Walk and Cher Ami and Major Whittlesey. Her latest collection, Where Are the Snows, winner of the X. J. Kennedy Prize, was released by Texas Review Press in September 2022, and her next novel, From Dust to Stardust, will be published by Lake Union Press in the fall of 2023.
 PAPERBACK | ISBN 9781953368492 | 5.5 x 8 | $24.00
For media inquiries please contact Phoebe Mogharei, phoebe@beltmag.com 
Praise for The Girls:
"There is much humor, particularly in comic descriptions of boorish suitors and hapless or disgraced husbands, and Ferber's awareness of family dynamics and the midwestern metropolis comes alive on the page. It stands as an enduring portrait of women torn between duty and self-fulfillment." –Publishers Weekly
"This is one of those books that nails setting and character so well that plot is mostly beside the point. [. . .]Ferber splits the difference with clearer prose and keener insight than [Sister Carrie author Theodore] Dreiser managed, while incorporating some of the same dry humor that [Babbitt author Sinclair] Lewis used to describe midwestern strivers." –Dmitry Samarov, Chicago Reader
"Written with such verve and insight that it could be a piece of historical fiction produced last week." –Patrick T. Reardon, Third Coast Review
Share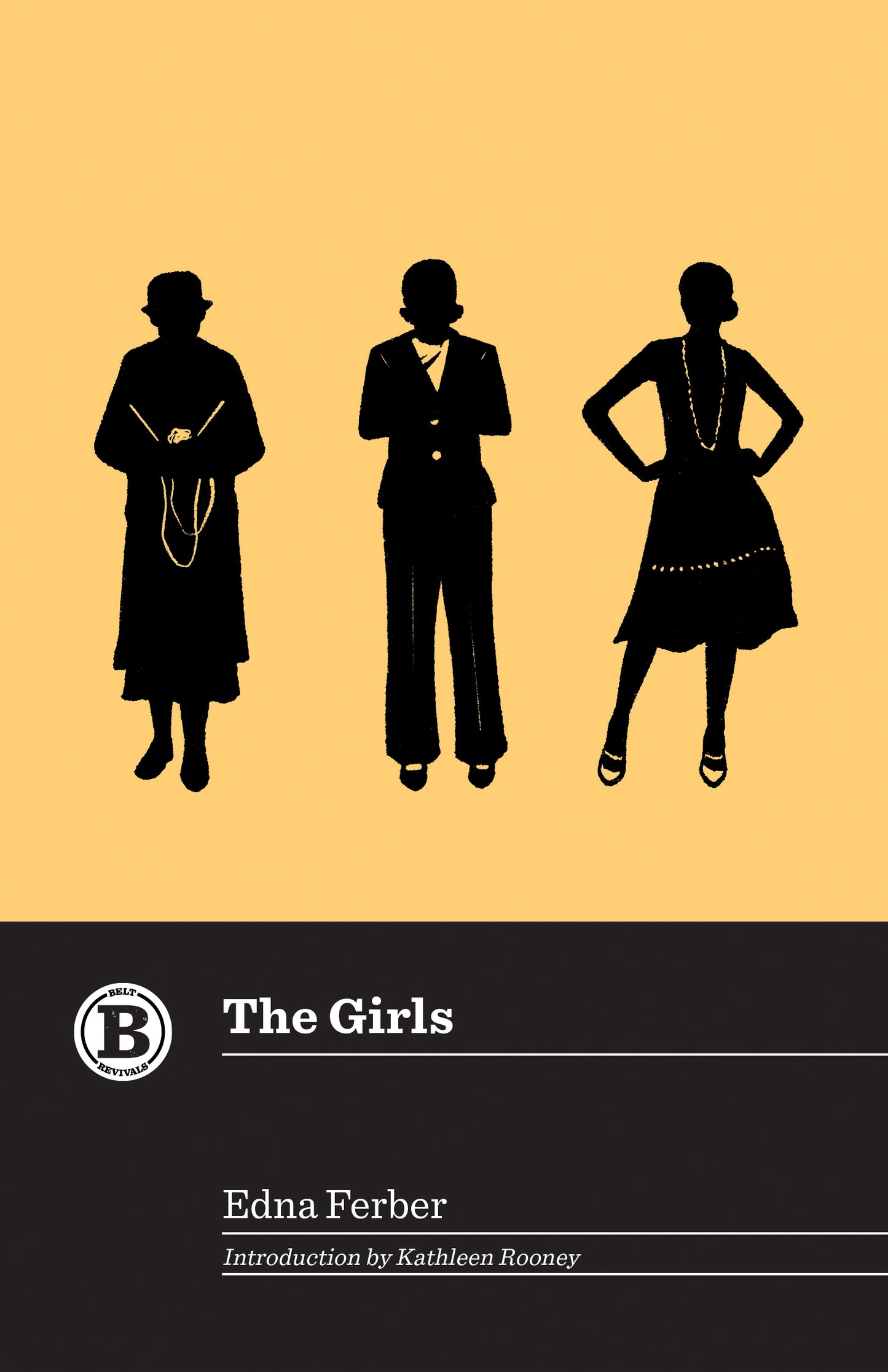 Special Offers and Discounts

Keep up with the newest title, sales, and events (plus the occasional meme) from Belt Publishing by signing up for our newsletter. It's only once a week—no cluttering up your inbox.