The Cincinnati Neighborhood Guidebook
Regular price
$24.00 USD
Sale price
$26.00 USD
Unit price
per
Sale
Sold out
Edited by Nick Swartsell
December 6, 2022
Part of Belt's Neighborhood Guidebook Series, The Cincinnati Neighborhood Guidebook is an in-depth look at the City of Seven Hills, written by the people who live and work there every day.  
Cincinnati, Ohio, is a complex mix of many different things: its present and its past, its transitions and its legacies; what defines it and distinguishes it; what makes people love it and what makes some eventually leave it. This collection, written by both lifelong Cincinnatians and recent transplants, offers a sampling of life there today—the tensions, debates, the life-and-death battles, and, not least of all, the joys that make this city so alive. It's a genuinely felt collection that offers a unique perspective on an evolving and energized city, a homegrown portrait showcasing the voices of people who know something about the way life feels—and why it feels that way—in their communities. It's about all the ways Cincinnati's differences are the very things that make the city so alive.
Here, you'll find stories that look at:
How Mount Auburn changed in the aftermath of the police shooting of Samuel DuBose
The Catholic legacy in Mount Adams
A busy intersection in gentrifying Over-the-Rhine
The fading rural landscape of Camp Dennison
How life by the Ohio River defines and shapes life in Ludlow
Edited by Nick Swartsell and with short essays by Gail Finke, Pauletta Hansel, Dani McClain, Ronny Salerno, Katie Vogel, and many others, this collection offers an intimate tour of the city's seven hills, its fifty-two neighborhoods, and its countless stories. Natives of Cincinnati will recognize both their streets and their histories, and readers from outside the city will get an unfiltered look at the locale known as "The Queen City."
Nick Swartsell is a journalist and photographer based in Cincinnati. He lived in Mount Auburn for eight years before moving to Camp Washington while editing The Cincinnati Neighborhood Guidebook.
ISBN: 9781953368447 | PAPERBACK | 6X9 | DECEMBER 6, 2022  
Praise for The Cincinnati Neighborhood Guidebook:
"This guidebook is an in-depth exploration of what makes Cincinnati's neighborhoods what they are and how they came to be what they are. It is an exploration of Cincinnati's neighborhoods written by people who call these neighborhoods home and have real insight into the life and culture of the places that give Cincinnati its personality, history, and diverse culture." —Mike Templeton, Urban Appalachian Community Coalition
"The Cincinnati Neighborhood Guidebook [. . .] definitely isn't your typical examination of Greater Cincinnati communities. It's not filled with tips about trendy places for coffee, craft beer or condos with great views of the city's seven hills. It's definitely not from the Cincinnati USA Regional Chamber." —John Kiesewetter, WVXU
"Edited by Cincinnati journalist and photographer Nick Swartsell, this collection of short essays by Gail Finke, Pauletta Hansel, Dani McClain, Ronny Salerno, Katie Vogel, and others provides a look at Cincinnati as a region in transition." —Sam Rosenstiel, Cincinnati Magazine
Share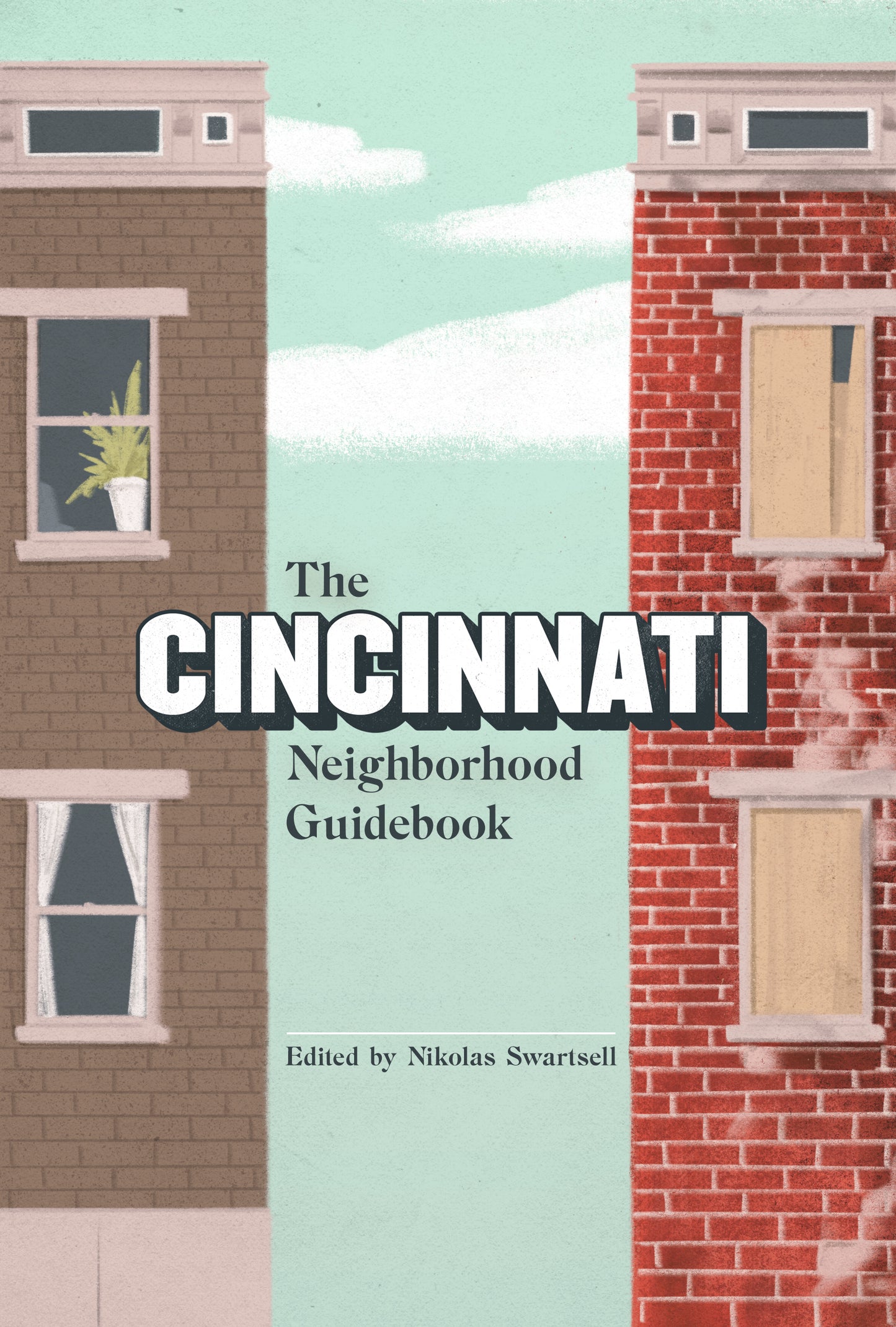 Special Offers and Discounts

Keep up with the newest title, sales, and events (plus the occasional meme) from Belt Publishing by signing up for our newsletter. It's only once a week—no cluttering up your inbox.