Standpipe: Delivering Water in Flint
Regular price
$16.95 USD
Sale price
$15.00 USD
Unit price
per
Sale
Sold out
By David Hardin
A 2022 MICHIGAN NOTABLE BOOK 
A brief, elegant memoir of the author's work as a Red Cross volunteer delivering emergency water to residents of Flint, Michigan. "A heartfelt portrait of a city, and a man, grieving."―Kirkus Reviews
A collection of short essays and "exquisitely chiseled vignettes," Standpipe: Delivering Water in Flint sets the struggles of a midwestern city in crisis against David Hardin's narrative of his personal journey as his mother succumbs to dementia and death. Written with a poet's eye for detail and quiet metaphor, Standpipe offers an intimate look at one man's engagement with both civic and familial trauma. It's also a vivid investigation into how we all heal as a community.
This gentle, observant book is for readers looking to understand the human experience of the Flint Water Crisis, and as well as "the deplorable conditions in Flint and the injustices that have plagued it for generations."
David Hardin is a Michigan poet, writer, and artist. His work has appeared in 3 Quarks Daily, Prague Review, Drunken Boat, Hermes Poetry Journal, Dunes Review, Epigraph Magazine, Loose Change, Burningwood Literary Journal, ARDOR, Carolina Quarterly, Madison Review, the 2014 Bear River Review, and elsewhere.
Praise for Standpipe:
"The short diarylike entries are like sun shining through trees, revealing light and shadow, hope and despair. They are artful yet concise, candid yet snappy as gum, and vary between personal grief and the grief Hardin witnesses, sometimes within the same paragraph, drawing the thinnest line from his middle-class upbringing to the "grinding, generational poverty" of the residents he serves."—Kerri Arsenault, Washington Post
"In exquisitely chiseled vignettes, Hardin captures the deplorable conditions in Flint and the injustices that have plagued it for generations"—National Book Review
"Isn't it often the poets among us who somehow manage to touch our most vulnerable places? Sometimes our broken parts elude healing through the usual parades of facts and political arguments; poets open us up to truths of the heart, where healing begins. [Hardin] pulls it off, I contend, with humility. It's a deeply personal account of one man's story and makes no claims to cover the whole crisis itself or speak for its victims."—Jan Worth-Nelson, East Village Magazine
"Standpipe is an exceptional and useful book for our times. At once, it is a knight's tale of unsullied ideals, of Dave Hardin's quest to deliver clean water to the poisoned citizens of Flint; but it is also the tale of submerged American populations, American migrants of many colors and beliefs journeying within our own country, and come (somehow) to fitful rest in America's vast, often indifferent middle."—Richard Ford
"Flint, Michigan has a reliable witness in Dave Hardin.  Standpipe delivers much to wonder in the "water wonderland."  Racism, poverty, neglect and a failure of leadership have horrific consequences.  A very worthy and timely read."—Thomas Lynch, author of The Undertaking: Life Stories from a Dismal Trade
"David Hardin is one of Detroit's finest poets. In his new book, Standpipe,  he brings together the elegance of poetry into the seriousness of memoir. A rich and engaging narrative about the tragedies of Flint's water crisis and its subsequent damage blended with the dedication of an American Red Cross volunteer. A beautiful  and memorable book."—M. L. Liebler, award-winning Detroit poet, editor and professor

"A standpipe is a temporary mechanism for delivering water where it is not otherwise available. In 2016, former schoolteacher David Hardin trained as a Red Cross Disaster Relief Volunteer to become a human standpipe, delivering fresh bottled water to the residents of Flint, Michigan, whose government had been poisoning them with lead in their water supply for more than two years. This on-the-ground account of the people, social circumstances, and economic conditions of this once vibrant and now devastated city is a story of redemption, but not so much for the people of Flint as for the author himself. By providing for the essential needs of others, Hardin uncovers a path to heal his own legacy of filial estrangement and personal loss."—Vince Carducci, publisher, Motown Review of Art

JANUARY 26, 2021 | ISBN: 9781948742825 | MEMOIR | PAPERBACK | 5 X 7 | 144 PAGES

See also: 
Share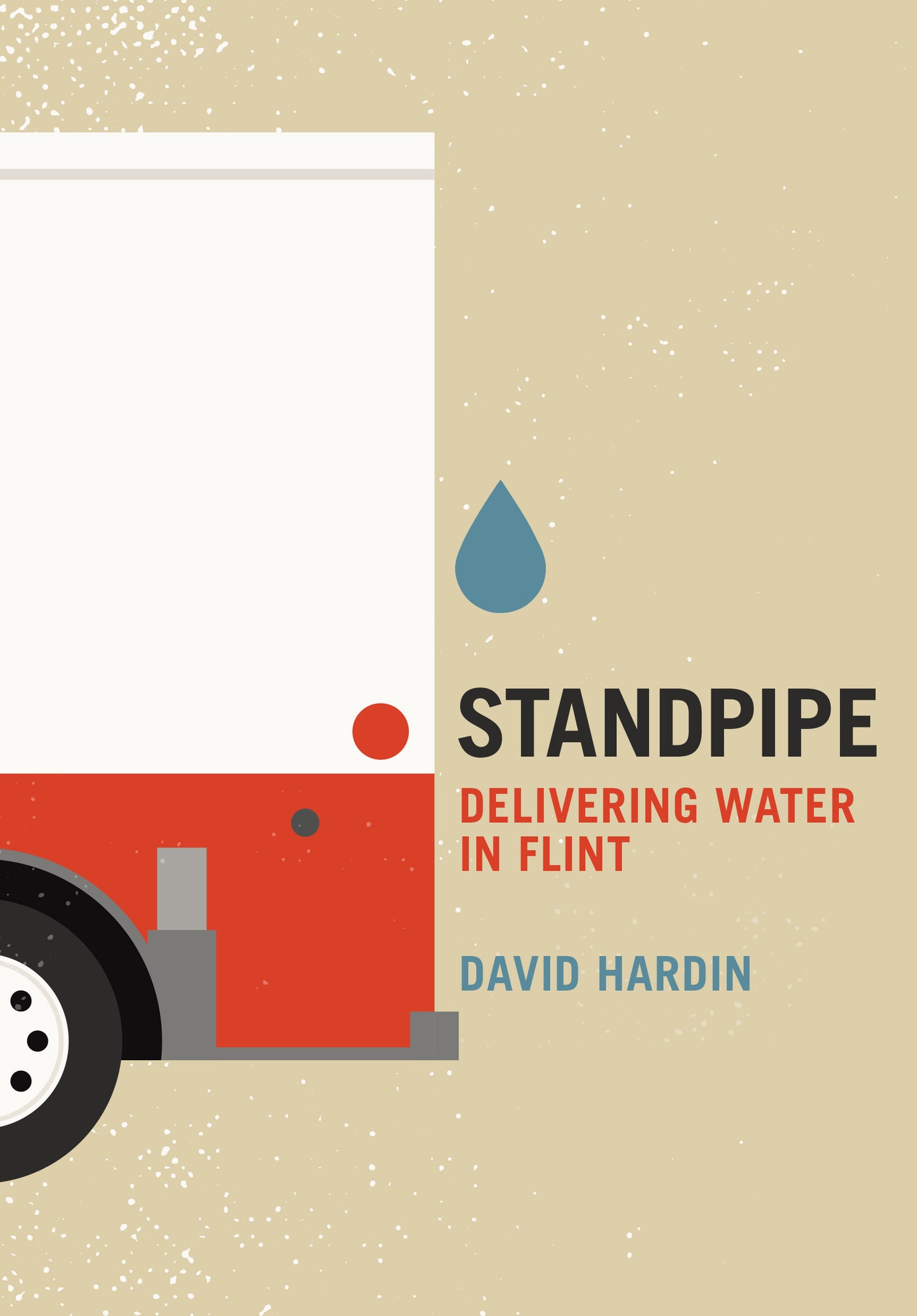 Special Offers and Discounts

Keep up with the newest title, sales, and events (plus the occasional meme) from Belt Publishing by signing up for our newsletter. It's only once a week—no cluttering up your inbox.