Rust Belt Femme
Regular price
$26.00 USD
Sale price
$20.00 USD
Unit price
per
Sale
Sold out
One of NPR's "Best Books of 2020," and winner of the 2020 Independent Publisher Awards' gold medal for LGBTQ+ nonfiction, Raechel Anne Jolie's blazing memoir is now available in paperback.
Raechel Anne Jolie's early life in a working-class Cleveland exurb was full of race cars, Budweiser-drinking men, and the women who loved them. When she was four, though, her life changed forever when her father was hit by a drunk driver and suffered a debilitating brain injury.
Rust Belt Femme is the chronicle of her survival. Fearlessly honest, wry, and tender, Jolie digs into both the pain of past traumas and the joy of teenaged discovery to craft a love letter to the brassy, big-haired women who raised her and the 90s alternative, riot grrrl culture that shaped her into who she is today: a queer femme with PTSD and a deep love of the Midwest. 
Personal and political, lyrical and fierce, Rust Belt Femme speaks to anyone who was once a misfit kid trying to find their place in the world.
Rust Belt Femme is the story of how these twin foundations—rural Ohio poverty and alternative 90s culture—made Raechel into who she is today: a queer femme with PTSD and a deep love of the Midwest.
Raechel Anne Jolie received her PhD in Communication Studies with a minor in Gender & Sexuality Studies from the University of Minnesota. Her writing has been published in Teen Vogue, Bitch Magazine, In These Times, and more. You can find her @reblgrrlraechel or at www.raechelannejolie.com.
More praise for Rust Belt Femme:
"Quite possibly the first book that's ever made me well up with tears within the first few pages....[Jolie's] story is both remarkable and utterly ordinary; any dreamy kid who grew up broke and weird will see a spark of themselves in this book, which is also why it's so important."—Kim Kelly, The New Republic
"A sharp coming-of-age portrait." —Kirkus Reviews
"Coming-of-age memoirs work best when the author is unafraid to dig deep into the context of their childhood, as well as the actual events. In her debut memoir, Rust Belt Femme, Raechel Anne Jolie gets it."—Jason Heller, NPR
"Jolie's voice is at once funny and heart-wrenching, putting every reader who wanted to be part of a scene back into their adolescent shoes."—Alicia Kennedy, Tenderly
"Affection for the Midwest shines in tender descriptions that verge on the romantic."—Ilona Westfall, Cleveland Magazine
"Compassionate and political, queer and punk and angry, Rust Belt Femme shows with grace and grit how community can save your life." —Michelle Tea, author of How to Grow Up: A Memoir
"A story of love and a testament of forgiveness, Rust Belt Femme is a thoughtful and personal examination of class and gender, and how Jolie found her peace with both. A narrative of strength and resilience, Jolie writes simply and beautifully about growing up poor and other, while also acknowledging the privilege she did have."—Lara Lillibridge, Hippocampus Magazine
"Rust Belt Femme is a brilliant mixed tape of a memoir, a love song to the family and friends, the songs and sacred places, that helped Raechel Anne Jolie grow into the fierce thinker and passionate writer she is. This miraculous little book manages to plumb the depths of poverty, trauma, punk rock, maternal devotion, young love, and queer identity in language that is lyric and precise. I was blown away. You will be too." —Steve Almond, author of Candyfreak and Against Football
"With Rust Belt Femme, Raechel Anne Jolie unveils a crystal ball, releasing a vivid love letter to her past, her mother, herself, and to Cleveland. Her clarity about how she became who she is takes us through an iconic time we may all have experienced, no matter where we are from. Her stunning writing [alone] makes me want to become a better writer." —Iliana Regan, author of Burn the Place
HARDCOVER: MARCH 10, 2020 | ISBN: 978-1948742634 | MEMOIR  | 5 x 7.25 | 176 PAGES


PAPERBACK: SEPTEMBER 14, 2021  | ISBN: 9781953368041 | MEMOIR  | 5 x 7 | 176 PAGES
Share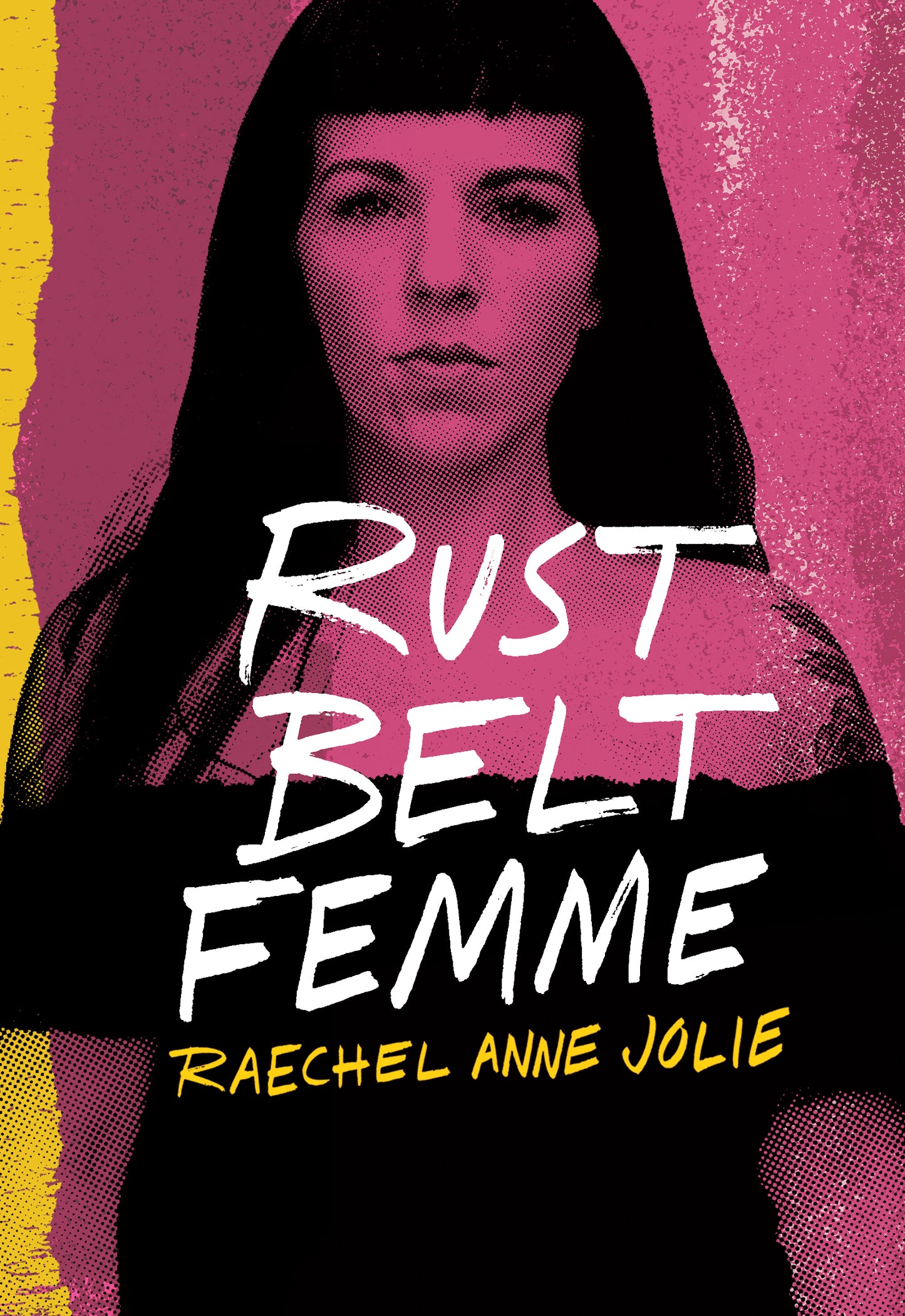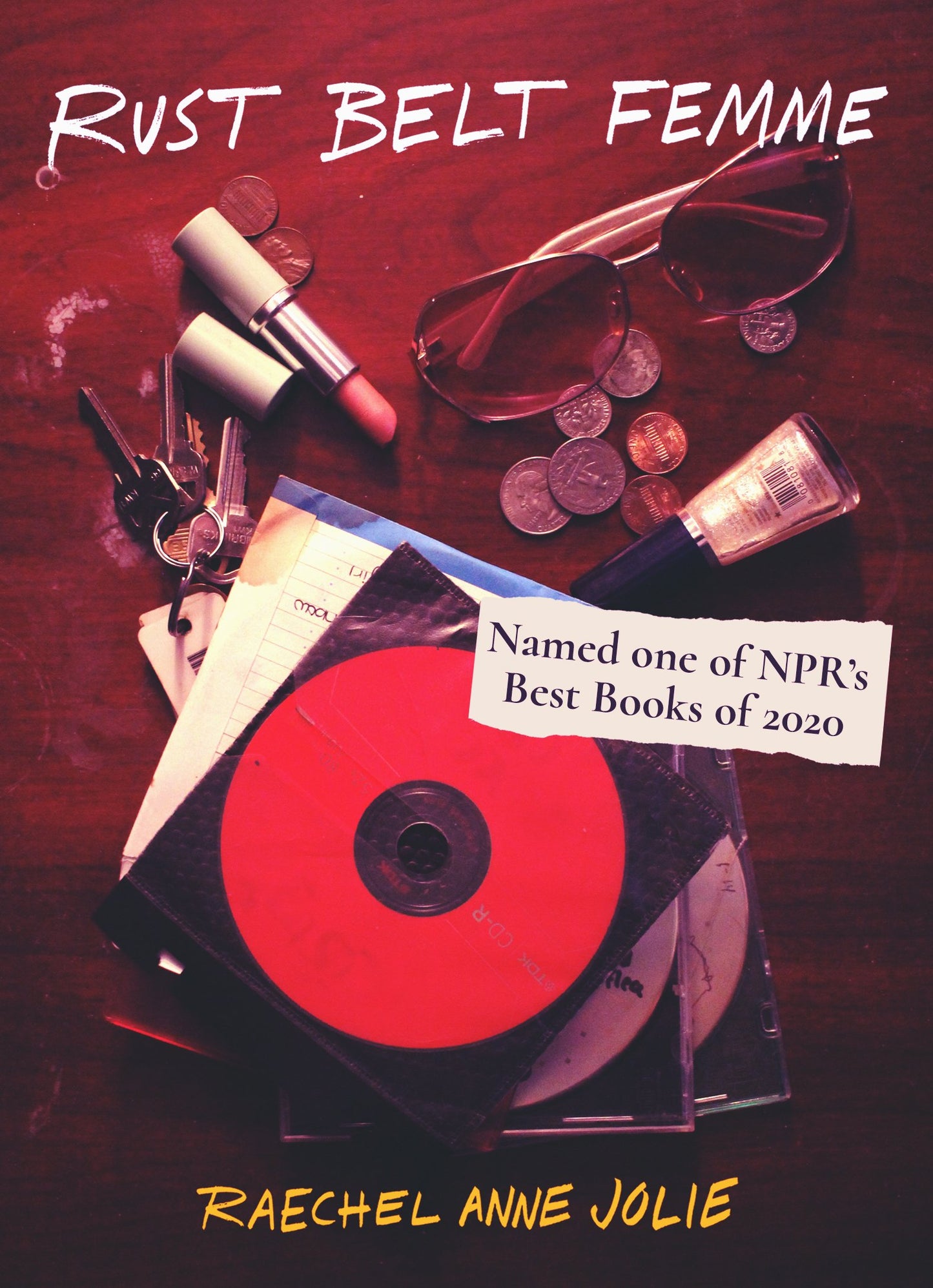 Special Offers and Discounts

Keep up with the newest title, sales, and events (plus the occasional meme) from Belt Publishing by signing up for our newsletter. It's only once a week—no cluttering up your inbox.