El Dorado Freddy's
Regular price
$20.00 USD
Sale price
$20.00 USD
Unit price
per
Sale
Sold out
By Danny Caine and Tara Wray
 A charming and accessible collection of poems dedicated to one of the most American of inventions—fast food. 
El Dorado Freddy's may be the first book of fast-food poetry. In poems like "Olive Garden," "Culver's," "Popeye's Louisiana Kitchen," "Cracker Barrel," "Applebee's (after James Wright)," Caine—owner of the Raven Book Store in Lawrence, Kansas—"reviews" chain restaurants, bringing our attention to a slice of American life we often overlook, even though it's everywhere. Along the way, he touches on such topics as parenting, the Midwest, politics, and the pitfalls of nostalgia. Caine's wry, deceptively accomplished poems are paired with Tara Wray's color-drenched photos. The result is a literary yet goofy homage to American food and identity, set in a midwestern landscape dotted by the light of fast-food restaurants' glowing signs.
Perfect for those readers who love both poetry and Popeye's. 
Danny Caine is the author of Continental Breakfast (Mason Jar Press, 2019) and the chapbook Uncle Harold's Maxwell House Haggadah (Etchings Press 2017). His poems have appeared in DIAGRAM, Hobart, Barrelhouse, The New Ohio Review, and other places. He holds an MFA in poetry from the University of Kansas. Hailing from Cleveland, he now lives in Lawrence, Kansas where he's the owner of the Raven Book Store. More info at ravenbookstore.com and dannycaine.com.
Tara Wray is a photographer based in Vermont. Her most recent photobook, Too Tired for Sunshine, was published by Yoffy Press in 2018. Born and raised in Kansas, Wray has directed two feature length documentaries: Manhattan, Kansas (Audience Award, SXSW 2006; Film Society of Lincoln Center) and Cartoon College (Official Selection, Vancouver International Film Festival 2012). She curates interviews with photographers at Vice and at BUST Magazine—where her focus is on giving voice to women in photography—and is photo editor of the literary journal Hobart. More info at www.tarawray.net.
More praise for El Dorado Freddy's: 
"You may look down your nose at fast food restaurants for any number of reasons, but you cannot deny their significance. ... El Dorado Freddy's, a collaboration by poet Danny Caine and photographer Tara Wray, gives these familiar outposts their complete attention. It is a splendid twofer that pairs two sequences by two artists in two different media on one theme and with one binding. ...Though this book actually left me craving fast food (something I haven't eaten in a long time), I didn't feel gross and bloated after devouring it. Instead, I went back for seconds, starting at the beginning and reading it again."—Dallas Crow, Rain Taxi Review of Books
"El Dorado Freddy's: Chain Restaurants in Poems and Photographs, as a title, only scratches at the surface of the treasures within.... Caine's work has a tongue-firmly-planted-in-cheek appeal that is sly enough to fool the people who believe Popeye's chicken could be considered healthy, and funny enough to make the rest of us laugh, or groan, to ourselves. Wray's images in El Dorado Freddy's are understated in their Steven Shore-esque ability to capture the essence of a meal when we'd rather not admit to, but cannot stop from embracing."—Cary Benbow, F-Stop magazine
MARCH 3, 2020 | ISBN: 978-194742627 | POETRY | PAPERBACK | 6 X 8.9 | 150 PAGES

Share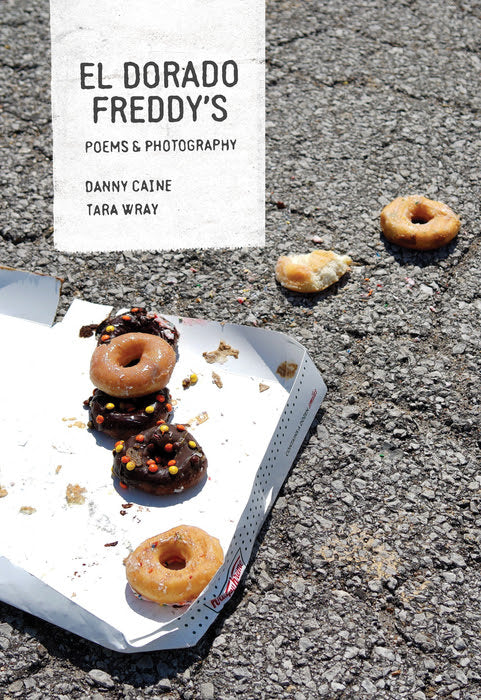 Special Offers and Discounts

Keep up with the newest title, sales, and events (plus the occasional meme) from Belt Publishing by signing up for our newsletter. It's only once a week—no cluttering up your inbox.