City of Hustle: A Sioux Falls Anthology
Regular price
Sale price
$26.00 USD
Unit price
per
Sale
Sold out
Edited by Patrick Hicks and Jon K. Lauck
October 11, 2022
A part of Belt's City Anthology Series, a unique take on the South Dakota town residents call "the Best Little City in America."
 In 1992, Money magazine named Sioux Falls, South Dakota, the best place to live in America. This rich anthology offers an inside look at the city through the eyes of both longtime residents and recent transplants. In over forty-five essays, you'll hear stories about the city's past, including the region's legacy of violence against Native Americans and Sioux Falls's status as a "divorce destination" in the late 1800s. But you'll also discover the ways the city's savvy planning and entrepreneurial gumption have helped it navigate twenty-first-century challenges.
You'll read about:
the end of George McGovern's presidential run at a Sioux Falls Holiday Inn
the vibrant Jewish and Syrian-Muslim communities that helped form the city
the first sit-down strike in American labor history
firsthand accounts of how South Sudanese refugees are shaping the city today
Edited by Patrick Hicks and Jon K. Lauck, City of Hustle: A Sioux Falls Anthology gives an insider's perspective on what's really going on in so-called "flyover country," and it shows why that name misses so much of the true richness that makes up life there every day.  
---
Patrick Hicks is the author of The Commandant of Lubizec, In the Shadow of Dora, Adoptable, and The Collector of Names, among others. His work has appeared on NPR, The PBS NewsHour, American Life in Poetry, and his first novel was selected for National Reading Group Month. He is the writer in residence at Augustana University as well as a faculty member in the MFA program at Sierra Nevada University. He was recently a finalist for an Emmy and hosts the popular radio show, Poetry from Studio 47.
Jon K. Lauck is the author of several books, including The Lost Region: Toward a Revival of Midwestern History (University of Iowa Press) and From Warm Center to Ragged Edge: The Erosion of Midwestern Regionalism, 1920–1965 (University of Iowa Press). Lauck has worked for several years as a full-time professor, a part-time professor, and a lawyer. He currently serves as an adjunct professor of history and political science at the University of South Dakota and as editor in chief of Middle West Review. He earned his PhD in history from the University of Iowa and his law degree from the University of Minnesota.
9781953368355 | OCTOBER 11, 2022 | PAPERBACK | 9 X 6 | $26.00 
See more about City of Hustle on KELOLAND TV! 
---
Praise for City of Hustle: 
"Sioux Falls isn't just flyover country, but a city with a history worth documenting and a future worth envisioning. A new book hitting shelves this fall, City of Hustle: A Sioux Falls Anthology, tackles just that through several essays from South Dakotans and Sioux Falls residents." —Makenzie Huber, Pigeon605
"From the Pomp Room to Falls Park to George McGovern's presidential run, readers will find a variety of unique stories." —Kelli Volk, KELOLAND TV
"City of Hustle, an anthology of essays by a compelling array of (mostly) South Dakotans, is much like [the Big Sioux River]. It winds through curves that reflect a beloved children's park, indigenous Dakota history, a towering Catholic cathedral, an immense meatpacking plant, a stark-naked David, a thwarted George McGovern, an iconic Joe Foss (he invented the Super Bowl!), an infamous divorce colony and more." —Kim Ode, StarTribune
Share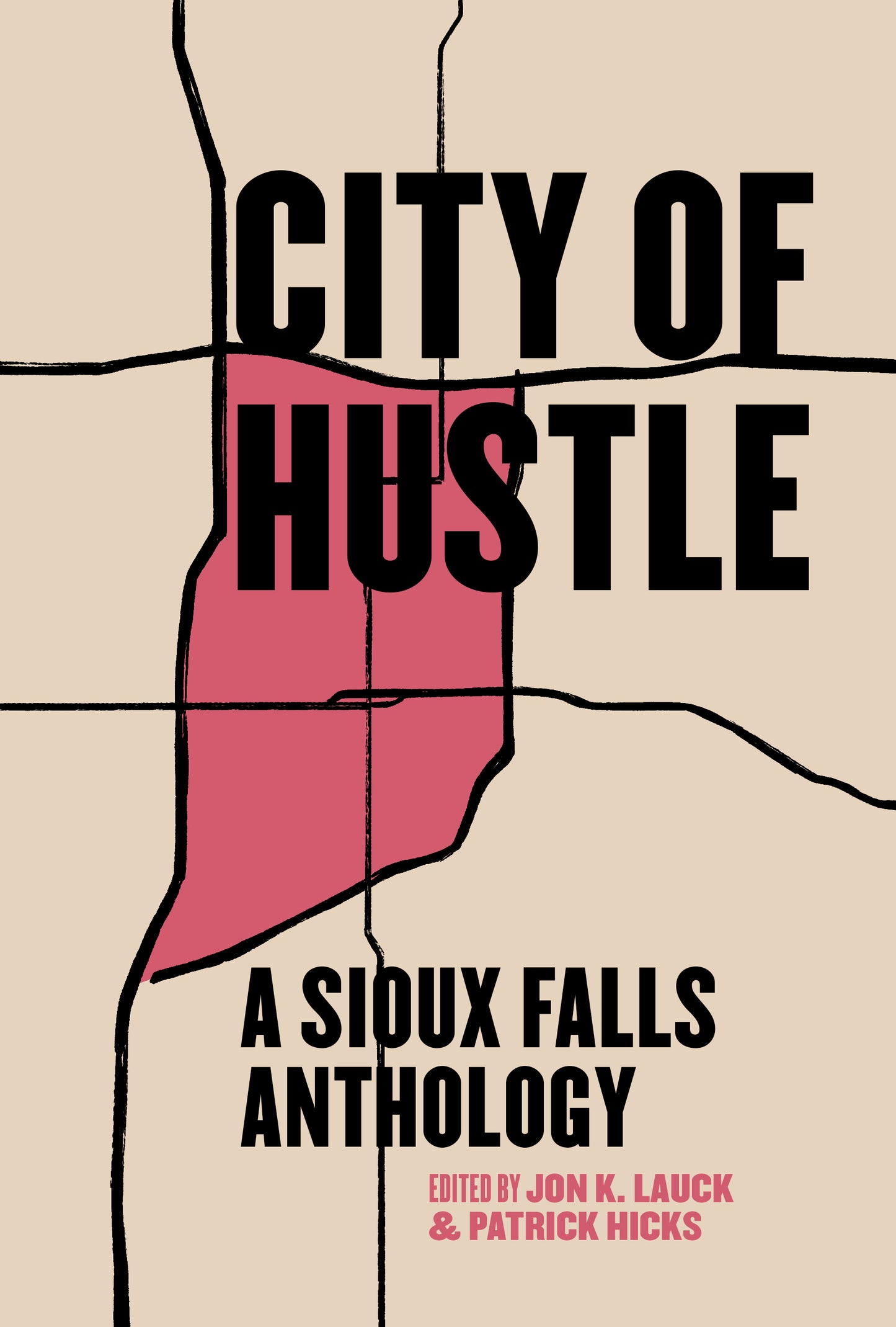 Special Offers and Discounts

Keep up with the newest title, sales, and events (plus the occasional meme) from Belt Publishing by signing up for our newsletter. It's only once a week—no cluttering up your inbox.