The Battle of Lincoln Park: Urban Renewal and Gentrification in Chicago
Regular price
$19.95 USD
Sale price
$16.95 USD
Unit price
per
Sale
Sold out
"A brief, cogent analysis of gentrification in Chicago ... an incisive and useful narrative on the puzzle of urban development."—Kirkus Reviews

In the years after World War II, a movement began to bring the middle class back from the Chicago suburbs to the Lincoln Park neighborhood on the city's North Side. In place of the old, poorly maintained apartments and dense streetscapes of taverns and butchers, "rehabbers" imagined a new kind of neighborhood—a renovated, modern community that held on to the convenience, diversity, and character of a historic urban quarter, but also enjoyed the prosperity and privileges of a new subdivision.
But as the old buildings came down, cheap studios were combined to create ever more spacious, luxurious homes. Property values swiftly rose, and the people who were being evicted to make room for progress began to assert their own ideas about the future of Lincoln Park. Over the course of the 1960s, divisions within the community deepened. Letters and picket lines gave way to increasingly violent strikes and counterstrikes as each camp tried to settle the same existential questions that beguile so many cities today: Who is a neighborhood for? And who gets to decide?
A riveting historical look at gentrification and urban renewal projects that still resonates across every American city today. 
Praise for The Battle of Lincoln Park:
"When it comes to matters of place, policy, and equity in Chicago, Daniel Kay Hertz is one of the most important and incisive commentators we've got. His careful and detailed analyses of how urban planning and the built environment can play an active role in envisioning a more just city are a necessary intervention for our times. He writes with curiosity, courage, and heart about the skeletal structures that make cities what they are-- architecture, transportation systems, and municipal finance. These elements of urban life are easily overlooked and they are also vitally important to consider closely if we have any hope of building a better place to live."  Eve L. Ewing, Assistant Professor, University of Chicago School of Social Service Administration; author of Ghosts in the Schoolyard: Racism and School Closings on Chicago's South Side 
"The Battle of Lincoln Park is insightful, well-written, deeply researched and engaging, a fascinating tale of the century-long process of gentrification in one Chicago neighborhood." Leah Boustan, Professor of Economics, Princeton University, and author of Competition in the Promised Land: Black Migrants in Northern Cities and Labor Markets
___
For media requests, contact Michelle at Michelle@blankenshippr.com.
Distributed by Publishers Group West
Daniel Kay Hertz is the policy director at Chicago's Department of Housing. He was formerly a Senior Policy Analyst at the Chicago-based Center for Tax and Budget Accountability, and wrote about urban issues here and in several other publications, including City Observatory.
See also: 
Share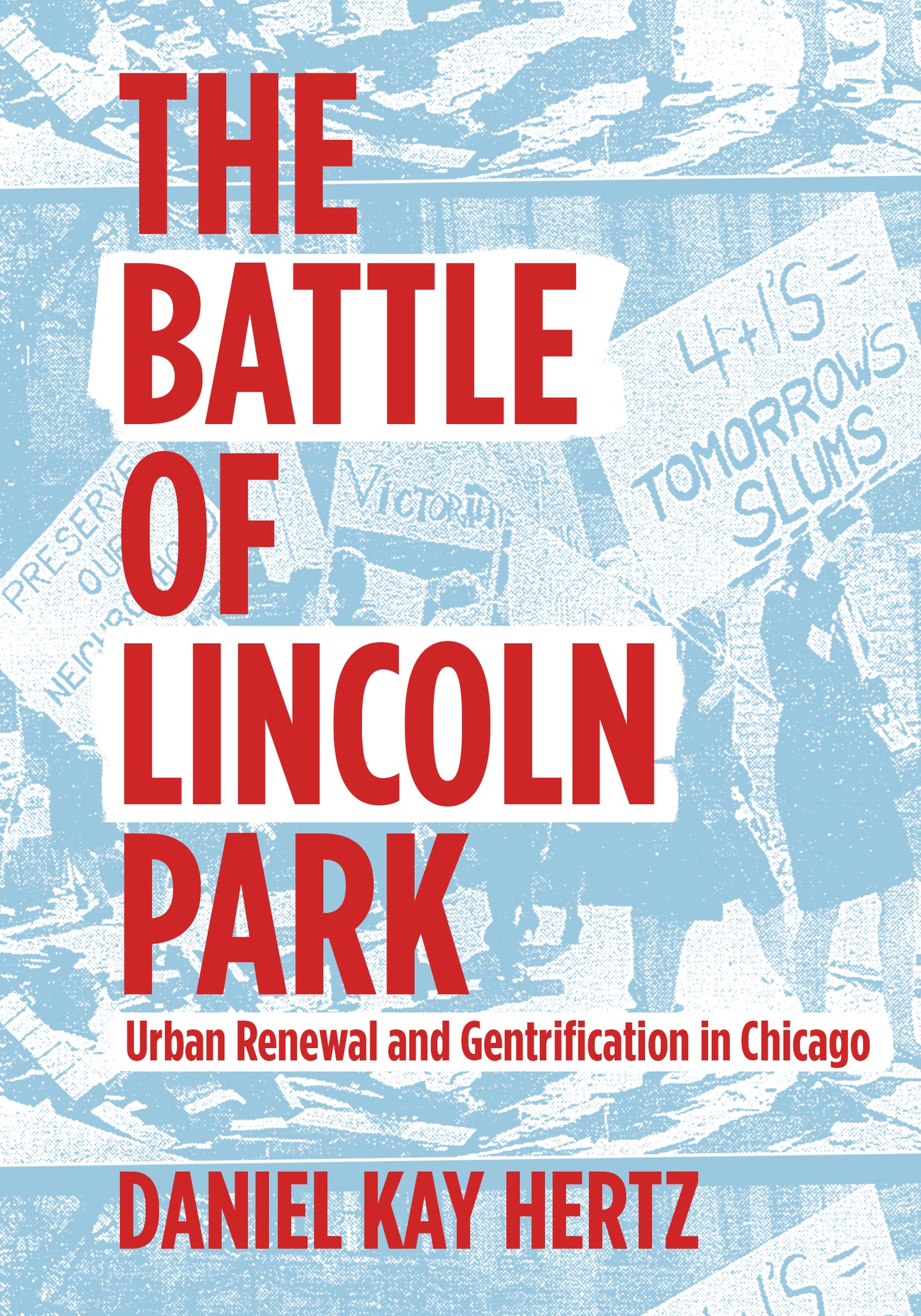 Special Offers and Discounts

Keep up with the newest title, sales, and events (plus the occasional meme) from Belt Publishing by signing up for our newsletter. It's only once a week—no cluttering up your inbox.