A Pandemic in Residence: Essays From a Detroit Hospital
Regular price
$16.95 USD
Sale price
$15.00 USD
Unit price
per
Sale
Sold out
A debut essay collection of remarkable breadth and erudition by a young Pakistani American doctor and writer. "Wry and smart."―The New York Times Book Review
During the early months of the COVID-19 pandemic, Selina Mahmood―in the middle of the first year of a neurology residency―found scraps of time between grueling shifts to write. The resulting collection is her personal and meticulous chronicle of an unprecedented year in medicine. It's also the debut of a young and uncommon talent.
In the tradition of Oliver Sacks and Paul Kalanithi, Dr. Mahmood takes the science of neurology and spins it into poetry, exploring theories of the mind, Pakistani-American identity, immigration, family, the history of medicine, and, of course, the challenges of becoming a physician in the midst of a global health crisis. Skipping nimbly across continents and drawing inspiration from an array of sources ranging from Thomas Edison to Yuval Harari to Beyoncé, she has crafted an elegant, incisive, and utterly original investigation. As Salon put it, this book is "A profound, moving and unfiltered account of not just a frontline worker's experience at an unprecedented moment, but a story of family and identity, of pop songs and PPE."
A must-read for anyone seeking insight into the front lines of the COVID-19 pandemic as well as a broader understanding of our universal search for meaning. 
Selina Mahmood was born in Detroit and serves as a second-year neurology resident there. She has also lived in Lahore, NYC, and Ann Arbor. She graduated with a major in history from the University of Michigan in a previous life before pursuing medicine. Her work has appeared in The Manhattanville Review, Squawk Back, Blood and Thunder—Musings on the Art of Medicine, The Conglomerate, and others. She has also blogged book reviews on HuffPost and worked as a reader for Boulevard, Bellevue Literary Review, and Frontier Poetry. When she isn't busy diving into the brain, she's trying to swallow her way out of it. 
Praise for A Pandemic in Residence:
"Wry and smart."—Kat Eschner, New York Times Book Review
"Reads like a combination of essay collection, diary, scientific article, cultural commentary, and poetry, and illuminates with sharp, elegant prose that blends fact with feeling a year like no other."—April Baer, Stateside Radio

"A profound, moving and unfiltered account of not just a frontline worker's experience at an unprecedented moment, but a story of family and identity, of pop songs and PPE."—Mary Elizabeth Williams, Salon
"A Pandemic in Residence is a must-read book....The strong personal voice develops profound sections on philosophy, history, literature and medicine, which help craft a gorgeously introspective novel [that] tackles issues of identity, loss, and navigating a tumultuous world."—Fatimah Shah, Muslim Girl
"This is not an over laudatory account of the heroism of frontline workers. . . . Rather, this is a young doctor laying bare her struggle to make sense of the search for meaning." —Kassel Galaty, Cleveland Review of Books
"In A 
Pandemic in Residence
, Selina Mahmood asks her reader to walk into risk—as she did
, gowned in PPE—
and
 memory: 
the first Covid death occurs on page 21.
 I imagine reading this book again in a year, in five, in ten, and I feel afraid—so vivid does Mahmood make the work of caring for the sick of Michigan in 2020. So vivid, as well, does she make her own unique and poetic obsessions that drew her to medicine in the first place: death and neurology and family and meaning. In the end, the work is an earnest and poetic investigation of an experience that 'no longer fits in our palms'—an investigation unique in its global need and universal urgency. I cannot recommend the book enough!"—Josh Roark, editor Frontier Poetry
MAY 18, 2021 | ISBN: 9781948742931 | ESSAYS | PAPERBACK | 5 X 7 | 144 PAGES
Share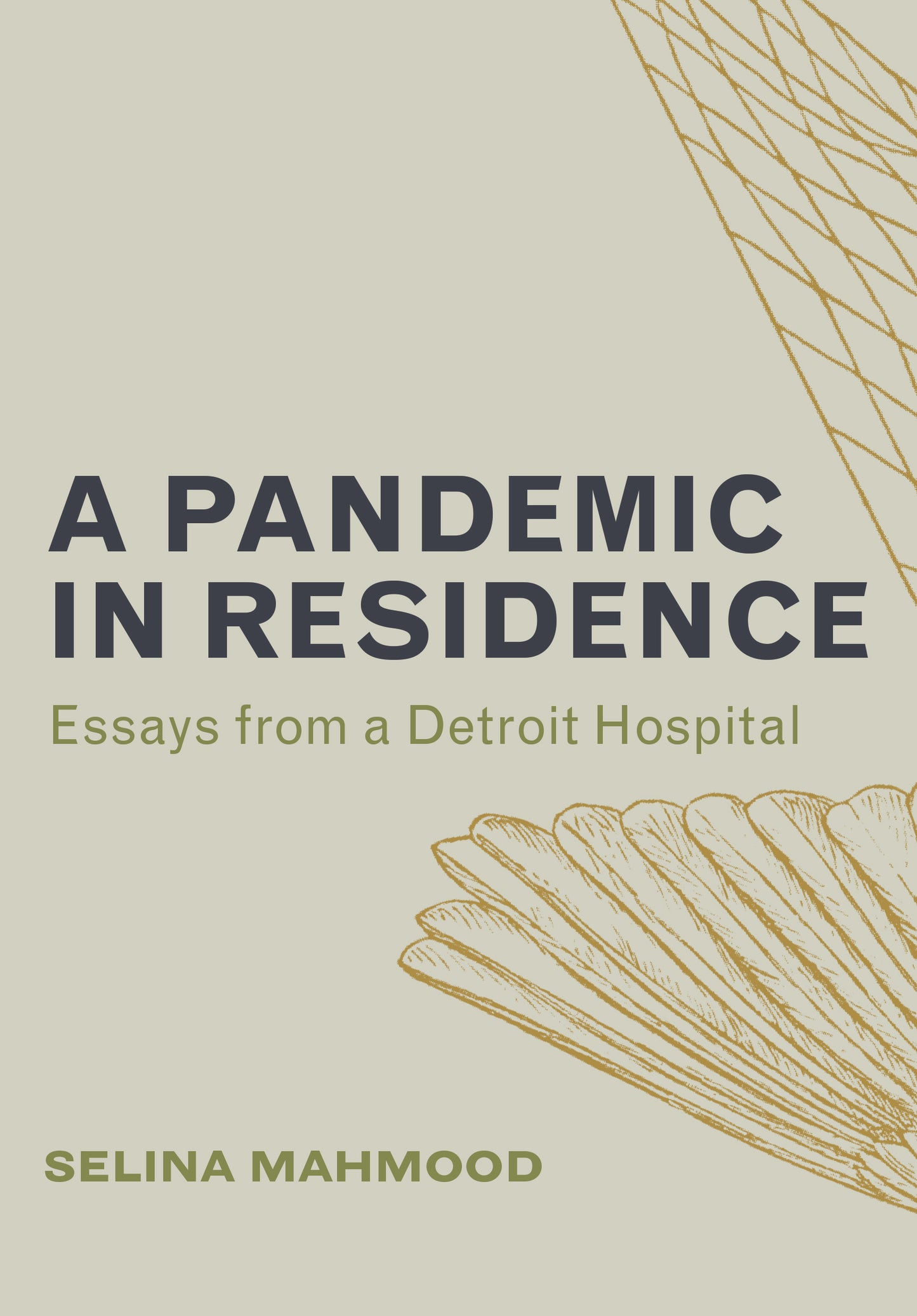 Special Offers and Discounts

Keep up with the newest title, sales, and events (plus the occasional meme) from Belt Publishing by signing up for our newsletter. It's only once a week—no cluttering up your inbox.