The Post-Pandemic Liberal Arts College: A Manifesto for Reinvention
Regular price
Sale price
$16.95 USD
Unit price
per
Sale
Sold out
From two veteran educators, Steven Volk and Beth Benedix, a succinct and impassioned call to reimagine the small liberal arts college after COVID-19.
Private liberal arts colleges have struggled for decades. Now, after the COVID-19 pandemic has exposed the weaknesses in many American institutions, they are possibly facing a mortal crisis. 
In The Post-Pandemic Liberal Arts College: A Manifesto for Reinvention, Volk and Benedix call for small colleges to seize this moment as an opportunity for renewal. With the rise of rankings that set peer institutions against each other, skyrocketing tuition, creeping preprofessional programs, and a race to build the splashiest new amenities for student "customers," many private liberal arts colleges have strayed from their founders' original missions. If they could shed the mantle of exclusivity, reduce costs, facilitate true social mobility, and collaborate with one other, the authors argue, they might both survive and again become just, equitable institutions that are able to transform their students' lives. Steve Volk is Professor of History Emeritus at Oberlin College where he taught for 31 years. He was the founding director of Oberlin's Center for Teaching Innovation and Excellence and is Co-Director of the Great Lakes Colleges Association Consortium for Teaching and Learning. In 2011 he was named U.S. Baccalaureate Colleges Professor of the Year by the Carnegie Foundation for the Advancement of Teaching. He lives in Oberlin, Ohio.

In addition to her academic gig as professor of world literature, religious studies, and community engagement at DePauw University, Beth Benedix is founder and director of The Castle, a non-profit organization that works to create a culture of arts-integrated project-based learning in Putnam County, IN public schools, and co-owner of TransformEdu, a consulting company that works with college educators to develop intentional, holistic, and collaborative teaching practices. Her most recent book, Ghost Writer: A Story About Telling a Holocaust Story (Spuyten Duyvil, 2018), was named a finalist in the category of writing/publishing (non-fiction) for the 2019 Next Generation Indie Awards. She lives in Greencastle, Indiana.
Praise for The Post-Pandemic Liberal Arts College:
"Succinct and sharply argued." —The Wilson Quarterly
"Volk and Benedix ... boldly raise issues the bare mention of which flirts with apostasy. They give unvarnished acknowledgement of the existential threat facing higher education, a grim prospect most faculty ignore or deny. Volk and Benedix use this in service of a call for radical change and openness to risk-taking."—Gabriel Paquette, Chronicle of Higher Education
"It's been a rough year for higher education. The COVID-19 pandemic has seen schools experimenting with remote-only learning and bumpy in-person reopenings, leaving students, faculty, and staff stressed, dissatisfied, and worried about their futures. A new book by two longtime professors suggests that the best solution is a total overhaul. Written during this year's chaos, The Post-Pandemic Liberal Arts College: A Manifesto for Reinvention outlines the numerous deep-seated problems inside small liberal arts colleges (SLACs) and proposes a massive overhaul of these institutions."—Pearse Anderson, Teen Vogue
SEPTEMBER 29, 2020 | ISBN: 9781948742849 | EDUCATION | PAPERBACK | 5 X 7.25 | 160 PAGES
See also: 
Share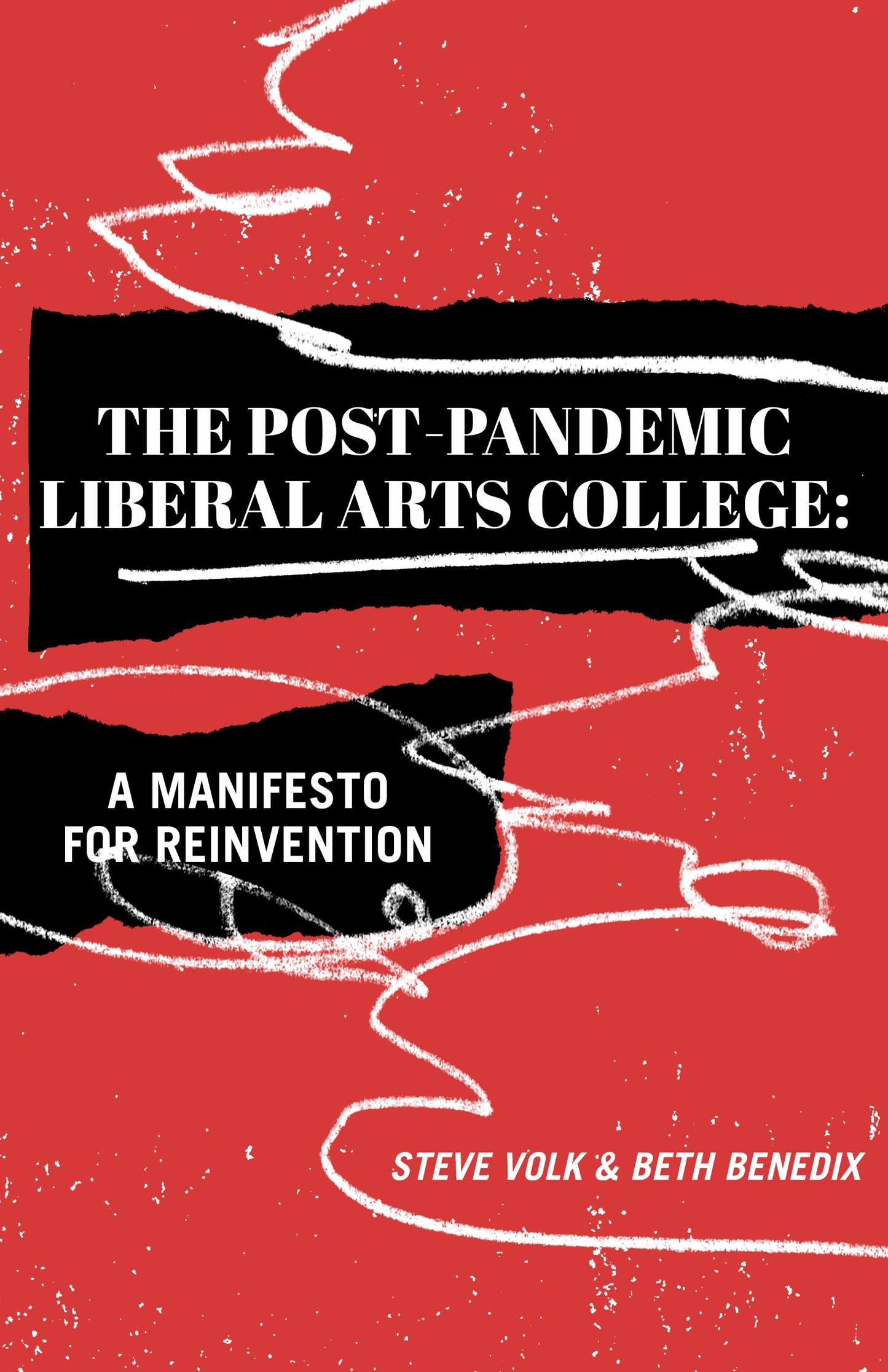 Special Offers and Discounts

Keep up with the newest title, sales, and events (plus the occasional meme) from Belt Publishing by signing up for our newsletter. It's only once a week—no cluttering up your inbox.