Runaway: Notes on the Myths That Made Me
Regular price
$29.00 USD
Sale price
$20.00 USD
Unit price
per
Sale
Sold out
Erin Keane
September 27, 2022
NAMED A BEST BOOK OF THE YEAR BY NPR
"This eagle-eyed inquiry hits the mark." —Publishers Weekly
In 1970, Erin Keane's mother ran away from home for the first time. She was thirteen years old. Over the next several years, and under two assumed identities, she hitchhiked her way across America, experiencing freedom, hardship, and tragedy. At fifteen, she met a man in New York City and married him. He was thirty-six.
Through a deft balance of journalistic digging, cultural criticism, and poetic reimagining, Keane pieces together the true story of her mother's teenage years, questioning almost everything she's been told about her parents and their relationship. Along the way, she also considers how pop culture has kept similar narratives alive in her. At stake are some of the most profound questions we can ask ourselves: What's true? What gets remembered? Who gets to tell the stories that make us who we are?
Whether it's talking about painful family history, #MeToo, Star Wars, true crime forensics, or The Gilmore Girls, Runaway is an unforgettable look at all the different ways the stories we tell—both personal and pop cultural—create us.  
__
Erin Keane is a critic, poet, essayist, and journalist. She's the author of three collections of poetry, and editor of The Louisville Anthology (Belt Publishing). Her writing has appeared in many publications and anthologies, and in 2018, she coproduced and cohosted the limited audio series These Miracles Work: A Hold Steady Podcast. She is editor in chief at Salon, where she has worked since 2014, and teaches in the Sena Jeter Naslund-Karen Mann Graduate School of Writing at Spalding University.
--
Praise for Runaway: 
"Most Anticipated" by  The Millions, LA Times, and more
"[This] memoir expands beyond the personal to cast that same piercing gaze on cultural myths, from the obsession with nymphets to the demonization of runaways. What results is a deeply felt family memoir that also functions as an exegesis of our social texts." —Lorraine Berry, Los Angeles Times (roundup)
"Memoirs this smart and absorbing don't come around all the time." —Michael Schaub, NPR
"Keane's debut memoir, Runaway, is the harrowing personal story of how one girl survived on her own, traversing America, hitchhiking from Aspen to Boston to New York City. It's also a critical examination of the cultural forces that have shaped the way we view, and tell, the stories of adolescent girls." —Hope Reese, The Cut
"A beautifully written memoir that introduces a fresh, compelling voice." —Silas House, Garden & Gun
"A question drives this collection: Who gets labeled a "missing kid" and who a "runaway"?  . . . In intelligent, brave prose, Keane reconstructs her mother's story into existence and challenges readers to examine the gendered dismissal of those we call runaways." —Emily Dziuban, Booklist (Starred review)
"Keane's prose soars, and her journalistic instincts shine." —Kirkus Reviews
"Erin Keane's Runaway: Notes on the Myths That Made Me is a powerful, incendiary take on our contemporary notions of victimhood. A dazzling page-turner of a book, Keane's deep-dive into her mother's life as a runaway child bride offers a potent indictment of our culture's age-old penchant for looking the other way when it comes to the trials and tribulations of girlhood." —Ken Womack, CultureSonar
"Salon.com editor-in-chief Keane, who's known for her razor-sharp cultural analysis, dives deep into her family history in this memoir from acclaimed indie press Belt Publishing. The book tells the story of her mother, who ran away from her home as a 13-year-old girl and hitchhiked around the country; Keane blends her mother's story with her own exploration of pop culture and family narratives." —Michael Schaub, The Orange County Register
"Among the jeweled facets of Runaway is Keane's writing, but her skill as a poet and essayist is accompanied by a journalist's rigor. . . . Runaway lures us with a fairy tale, but as we draw closer, we begin to see the contours of a world that is more complex but no less fearsome." —Lorraine Berry, Los Angeles Times (full review)
"Such candid openness invites readers to challenge their own perspectives." —T.E. Lyons, Leo Weekly
"Erin Keane's Runaway is a moving and extremely important piece of contemporary memoir.  Keane is a brilliant storyteller, who bravely walks us through her beautifully complicated family dynamic, with prose that is razor sharp, informative and powerful enough to make us reexamine ourselves and everything we subscribe to." —D Watkins, New York Times Bestselling author of Where Tomorrow's Aren't Promised and The Cook Up 
"More than a memoir, Erin Keane's Runaway is a journey of uncovering—reexamining family mythologies, cultural touchstones, and the identities we assume and are given. Compulsively readable and enjoyable on every single page." —Erin Khar, author of STRUNG OUT
"In Runaway, Erin Keane sands down the shimmering outlines of teenage identity, making opaque the secrets and inventions that formed her family's origin and, in parallel, much of this last century's most beloved media. Exploding her own personal mythologies over a series of essays that graze topics as disparate as Gilmore Girls and Star Wars, Keane brings critical shrewdness to the vision-obscuring status quo of patriarchy." —Sadie Dupuis, of Speedy Ortiz and Sad13, and author of Mouthguard

"I'm not able to pin down my own life in essays as clear and beautiful as Erin Keane has done here. But reading Runaway time and again will be the learning and motivation I need. That we all do." —Kevin Smokler, author of Brat Pack America: A Love Letter to '80s Teen Movies 
9781953368317 | Hardcover | 5.5 x 8.5 | Distributed by PGW/Ingram | $28.00 | 250 pages |September 27, 2022 
For publicity and marketing inquiries, contact Phoebe at phoebe@beltmag.com
Share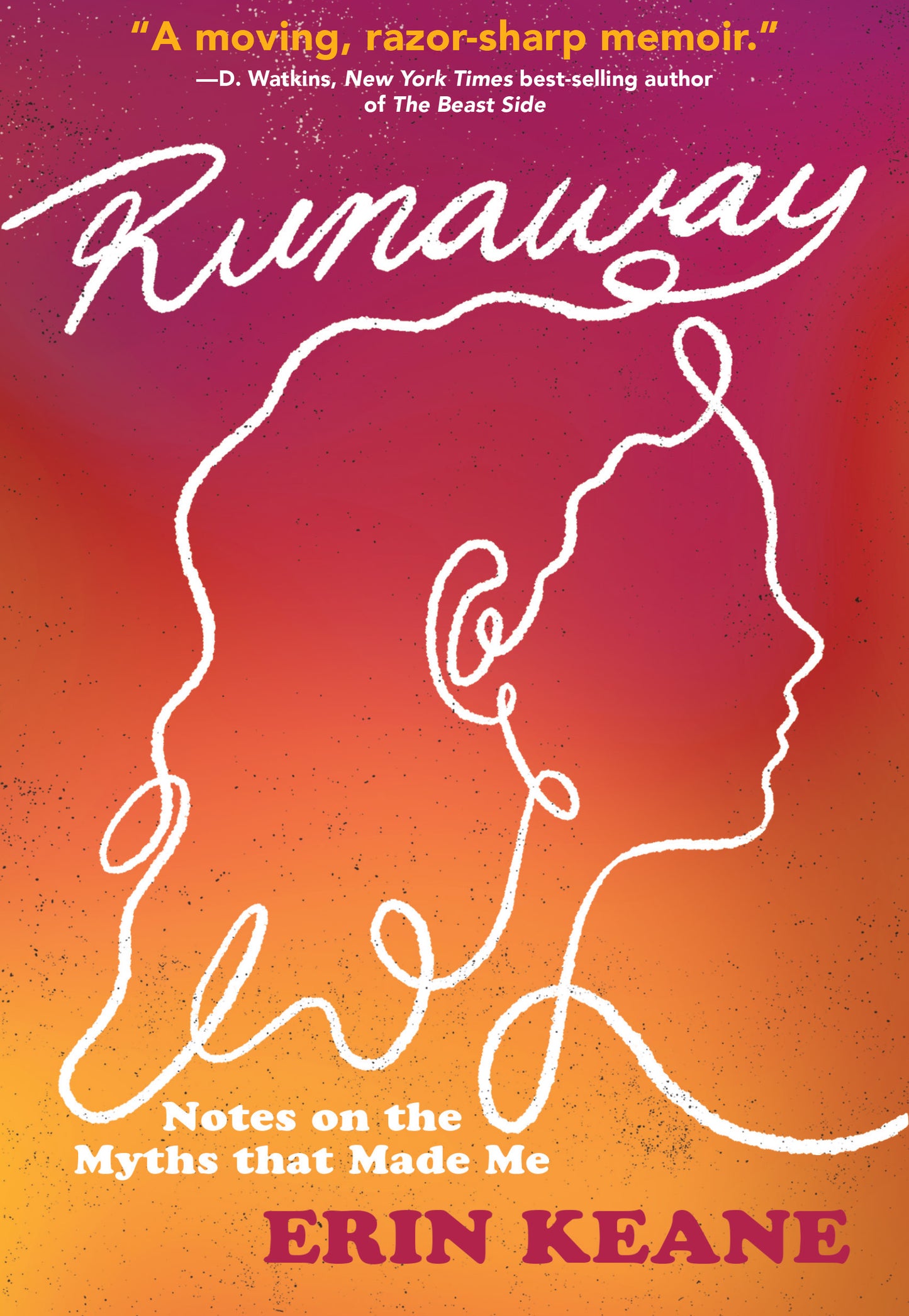 Special Offers and Discounts

Keep up with the newest title, sales, and events (plus the occasional meme) from Belt Publishing by signing up for our newsletter. It's only once a week—no cluttering up your inbox.