Rethinking Fandom: How to Beat the Sports-Industrial Complex at Its Own Game
Regular price
$17.95 USD
Sale price
$17.95 USD
Unit price
per
Sale
Sold out
Craig Calcaterra 
April 5, 2022
IPPY Awards Gold Medalist
A fundamental reevaluation of how to be a sports fan by an acclaimed baseball writer
Sports fandom isn't what it used to be. Owners and executives increasingly count on the blind loyalty of their fans and too often act against the team's best interest. Intentionally tanking a season to get a high draft pick, scamming local governments to build cushy new stadiums, and actively subverting the players have become business as usual in professional sports.
In Rethinking Fandom, sportswriter (and lifelong sports fan) Craig Calcaterra argues that fans have more power than they realize to change how their teams behave. With his characteristic wit and piercing commentary, Calcaterra calls for a radical reexamination of what it means to be a fan in the twenty-first century.
Craig Calcaterra is the writer and editor of the daily baseball, news, and culture newsletter, Cup of Coffee. Previously, he was the lead national baseball writer for NBC Sports, where he launched and edited the baseball blog HardballTalk. Calcaterra's work has appeared on NPR, Bloomberg News, BBC, and ESPN. He lives in New Albany, Ohio. 
 Praise for Rethinking Fandom: 
"In typical Calcaterra fashion, he goes over a wide range of topics while showing wit and erudition. The book is split into two sections: diagnosis of the ills of modern fandom, and how to combat it. . . . between his personal stories, fun references (Ship of Theseus, anyone?) and barely-contained anger, it's a sharp breezy read." —Brian O'Neill, SSS Literary Supplement
"Craig Calcaterra once again proves his status as one of the most insightful commentators on the intersection of sports, culture, and politics. Bringing his trademark blend of clear thinking, righteous indignation, and ironic humor, Calcaterra lays out the case that modern sports fans are captured in a cycle of toxic exploitation. [...] Rethinking Fandom is a vital book for any sports fan in the 21st century." —Mike Duncan, author of Hero of Two Worlds: The Marquis de Lafayette in the Age of Revolution
"Modern fandom is rubbish, and Calcaterra explains why, but in so doing, also shows us the way out of our desensitized, corporate, laundry-hugging ways." —Keith Law, The Athletic
"If you're like me and love sports but have become increasingly dismayed by the 'sports-industrial complex,' Calcaterra's book will prove a balm that allows you to hold onto that fandom without turning a blind eye to the myriad problems and sources of exploitation on the field." —John Warner, The Chicago Tribune
ISBN: 978-1-953368-23-2/paperback/April 5, 2022/228 pages 
Share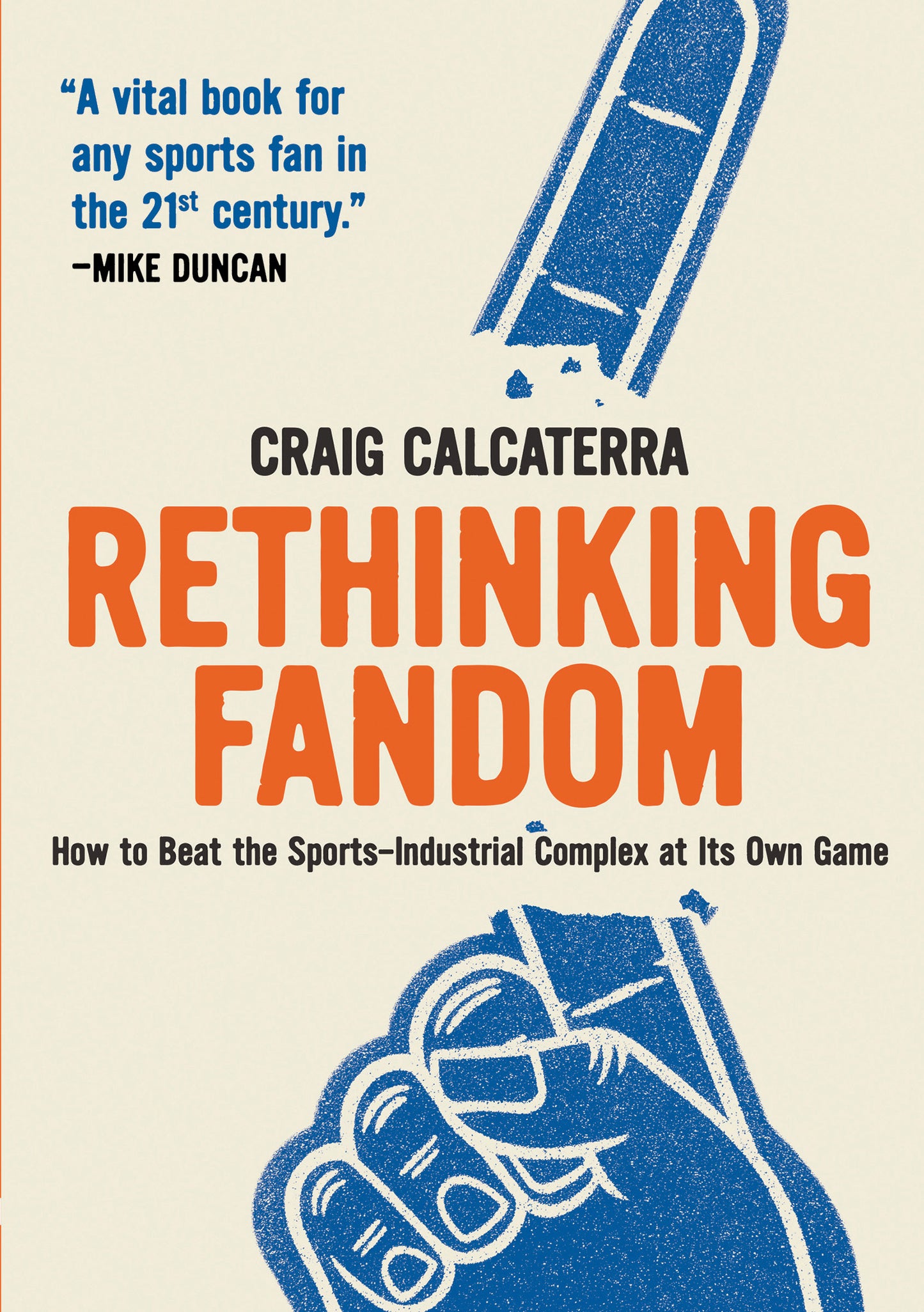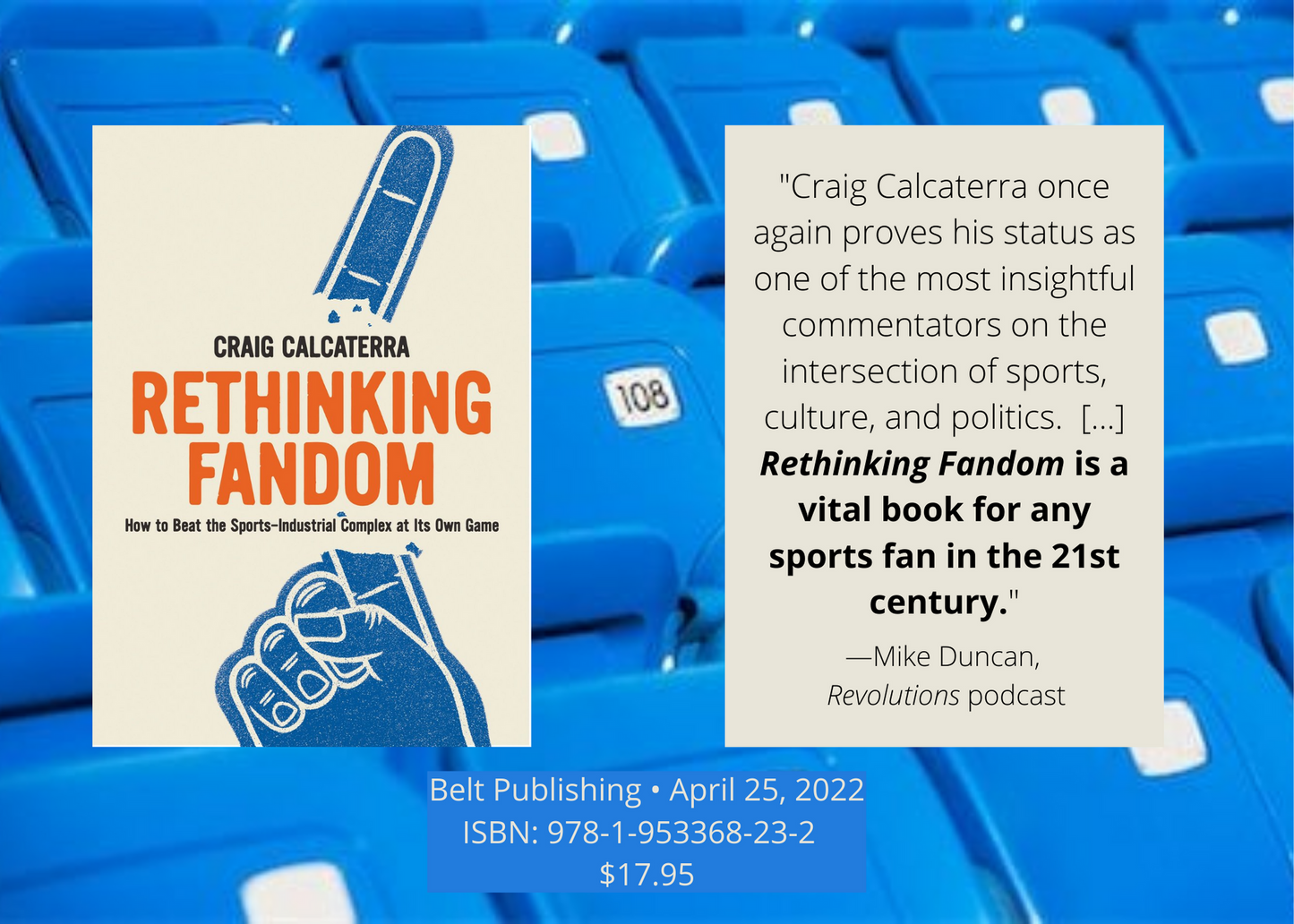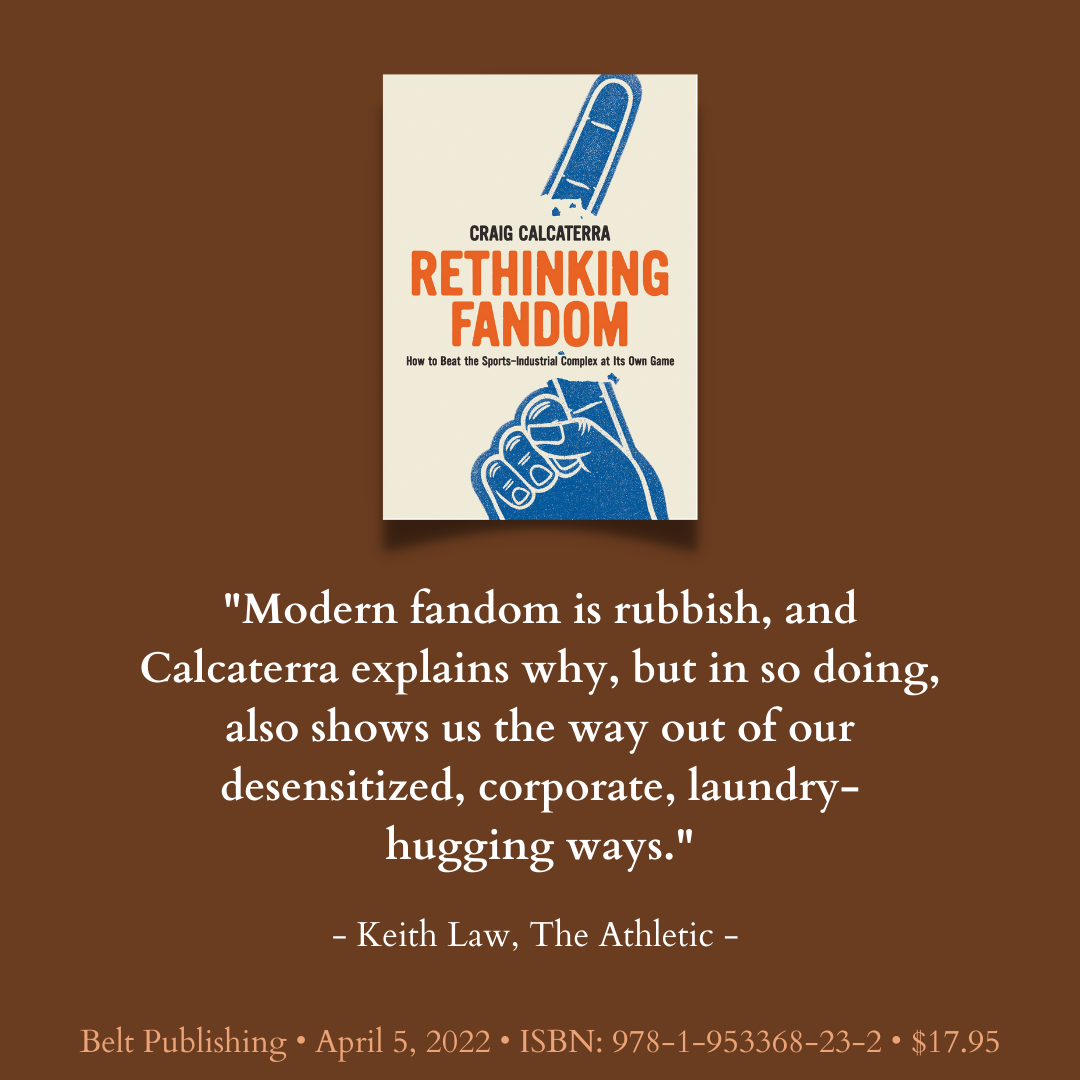 Special Offers and Discounts

Keep up with the newest title, sales, and events (plus the occasional meme) from Belt Publishing by signing up for our newsletter. It's only once a week—no cluttering up your inbox.