Detroit in 50 Maps
Regular price
Sale price
$30.00 USD
Unit price
per
Sale
Sold out
By Alex B. Hill
The second in Belt's series of creative urban cartographies, after Cleveland in 50 Maps, Detroit in 50 Maps shows you the Motor City from entirely new perspectives, from neighborhood coffee shops to the legacy of redlining.  
There are thousands of ways to map a city. Roads, bridges, and railways help you navigate the twists and turns; topography gives you the lay of the land; population growth shows you its changing fortunes. But the best maps let you feel what that city's really like. Detroit in 50 Maps deconstructs the Motor City in surprising new ways. Track where new coffee shops and coworking spaces have opened and closed in the last five years. Find the areas with the highest concentrations of pizzerias, Coney Island hot dog shops, or ring-necked pheasants. In each colorful map, you'll find a new perspective on one of America's most misunderstood cities and the people who live here.
A conversation starter for Detroiters past, present, and future, Detroit in 50 Maps is for anyone keen to understand the city in new and surprising ways.
Alex B. Hill is GIS Director at Wayne State University and Project Director of the Detroit Food Map Initiative, which has been mapping nutritional access of Detroit grocery stores, corner stores, and farmers markets since 2011. He started the website DETROITography (detroitography.com) in an attempt to bring together various Detroit cartographers and their great work. 
Praise for Detroit in 50 Maps:

"An offbeat, fascinating, decidedly lo-fi atlas. ... Each map is interesting on its own, but taken together—despite the title, there are far more than 50—they offer a lively cultural snapshot of the Motor City." —Tina Jordan, New York Times Book Review
"From Rebecca Solnit's atlases of New York, New Orleans and San Francisco, to Belt Publishing's Detroit in 50 Maps, these are books that surface the lesser-known stories —particularly those of marginalized groups—and show how they still reverberate through present-day space." —Laura Bliss, Bloomberg CityLab
NOVEMBER 2, 2021 | ISBN: 9781953368027 | HISTORY | HARDBACK | 144 PAGES
Get the complete collection with the 50 Maps Series bundle! 
See also: 
Share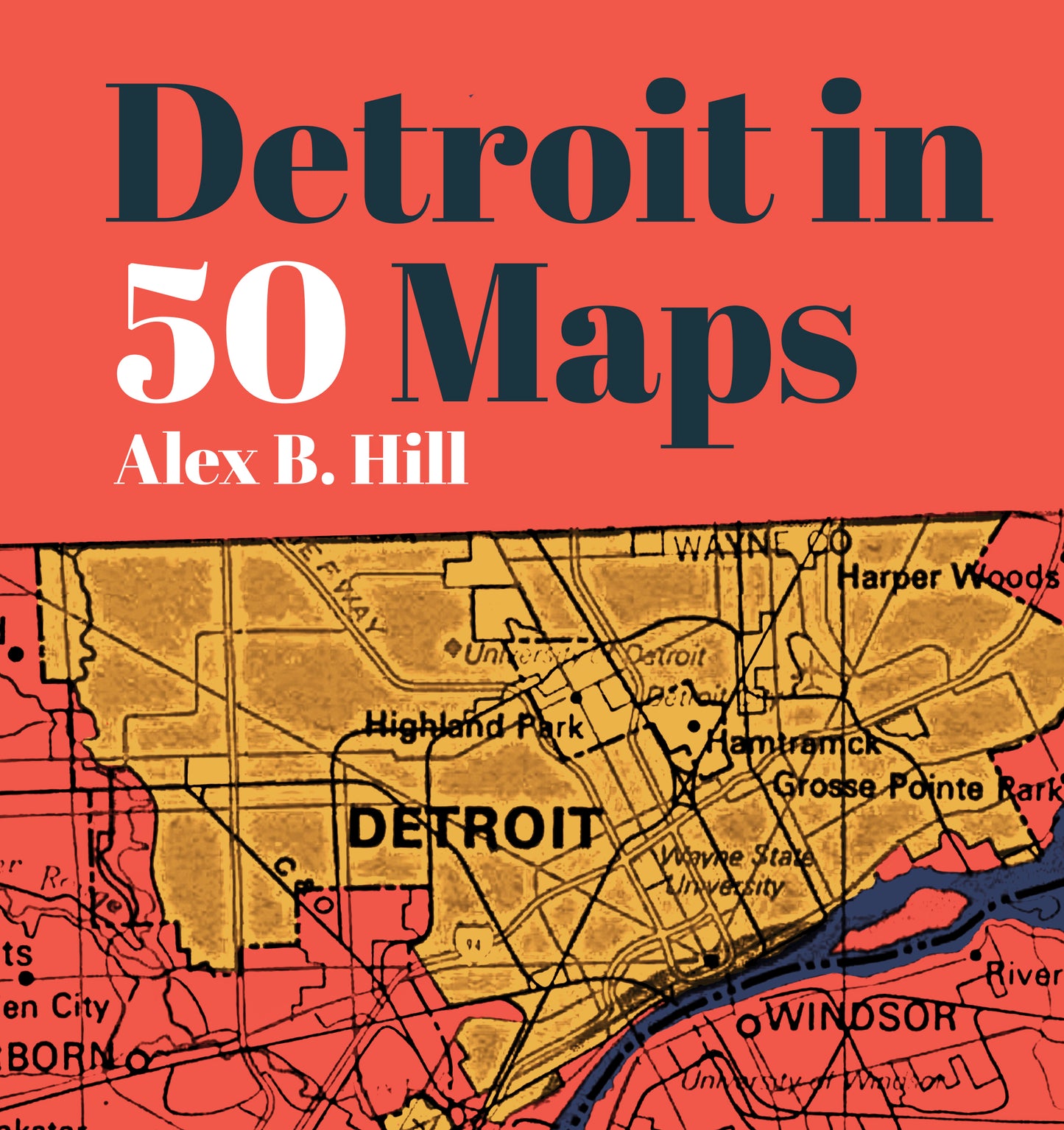 Special Offers and Discounts

Keep up with the newest title, sales, and events (plus the occasional meme) from Belt Publishing by signing up for our newsletter. It's only once a week—no cluttering up your inbox.