Chicago Neighborhood Guidebook
Regular price
Sale price
$9.99 USD
Unit price
per
Sale
Sold out
Edited by Martha Bayne
Part of Belt's Neighborhood Guidebook Series, The Chicago Neighborhood Guidebook is an intimate exploration of the Windy City's history and identity. "Required reading"—The Chicago Tribune. 
Officially, Chicago has 77 neighborhoods. Unofficially, though, that number's closer to 200. But what does that mean for the people who actually call Chicago home? In an eclectic collection of essays, poems, photos, and visual art, The Chicago Neighborhood Guidebook aims to explore the city's overlooked corners. Edited by Martha Bayne, and with help from the Read/Write Library, the book builds on 2017's critically acclaimed Rust Belt Chicago: An Anthology. Here, you'll find compelling stories from all over the city:
What one pizzeria meant to a boy growing up in Ashburn

The South Shore's beauty and pain

The best borscht in Ukranian Village

The alleys of the Gold Coast

Rogers Park's ever-shifting identity
This lyrical and subjective guide to Chicago features work by Megan Stielstra, Audrey Petty, Alex Hernandez, Sebastián Hidalgo, Dmitry Samarov, Ed Marszewski, Lily Be, Jonathan Foiles, and many more. It's a book about the day-to-day lives of people in the city and above all else, about the changes those people have witnessed, suffered, and enacted.
In this idiosyncratic guidebook, Chicagoans will recognize both their streets and their stories, and readers from outside the city will get an intimate portrait of one of America's most iconic cities.   
Praise for The Chicago Neighborhood Guidebook:
One of "The 10 Best 21st Century Chicago Nonfiction Books" according to Chicago magazine
"Required reading. ... Reinforces what an amazing and interesting place [Chicago] is, filled with talented writers and artists who contributed to the book. But it also requires the reader to see the city anew, to confront its problems and not fall back on empty sentiment."—John Warner, Chicago Tribune 
"A stirring, entertaining and informative collection of works … [Brings] to vivid life the diverse people and wildly divergent experiences that populate Chicago. The Chicago Neighborhood Guidebook is a symphony of the city – unharmonious, often tragic, sometimes ridiculous, yet always home."—Alex Bean, Chicago Detours
"Studs Terkel managed to portray the city's richness in his weekly radio show and books by interviewing Chicagoans from all walks of life. It's that same spirit of open mindedness and eclecticism that animates The Chicago Neighborhood Guidebook, a collection of 45 essays, poems, and photographs from Belt Publishing, where contributors from all corners of the city share space, each individual neighborhood weaving together into an evocative tapestry." —Tanner Howard, Curbed Chicago
"You would be a fool not to have this on your bookshelf; it will introduce you to Chicago today … An essential and tremendously enjoyable book." —Rick Kogan, After Hours With Rick Kogan
"Offers a democratic view of the city ... through the personal stories and experiences of its residents."—Quinn Meyer, Chicago Tonight  
"Belt Publishing's new book The Chicago Neighborhood Guidebook, edited by journalist Martha Bayne, features short essays, poems, articles and photo essays that capture the city's change and personal stories of just about every Chicago neighborhood. The stories reflect the city's change by diving into the identity of each neighborhood from a personal perspective and with a deep love of how place influences a person."—Ariel Parella-Aureli, LoganSquarist
"In their varied voices, however, the Guidebook's authors go deeper than reiterating the neighborhood notion by hitting at the power of place and describing how a neighborhood can shape us, often from a young age. ... The Guidebook offers a buffet of places you might want to visit, interesting facts, and memorable moments. It leaves you on your own to piece the map together, which is a welcome challenge."—Max Budovich, South Side Weekly
"The Chicago Neighborhood Guidebook makes an effort to describe the kaleidoscopic sand art project that is the Windy City. Bayne is doing something new here with a skilled and colorful effort to remember the city's then while recording something of the mercurial now it currently inhabits."—Dan Kelly, Third Coast Review
________
Martha Bayne is a senior editor with Belt Publishing and a Chicago-based freelance writer. Her work has been published in regional and national outlets including Buzzfeed, Eater, the Chicago Reader, the Chicago Reporter, the Baffler, and Puerto Rico's Center for Investigative Journalism. She is the editor of Rust Belt Chicago: An Anthology and Red State Blues: Stories from Midwestern Life on the Left, both published by Belt, and the author of the narrative cookbook Soup & Bread Cookbook: Building Community One Pot at a Time (Agate, 2011).
See also:
Rust Belt Chicago: An Anthology
Chicago Bundle
Belt Neighborhood Guidebook Bundle
SEPTEMBER 10, 2019 | ISBN: 9781948742498 | US STATE & LOCAL HISTORY | PAPERBACK | 5.9 x 8.9 | 267 PAGES
Share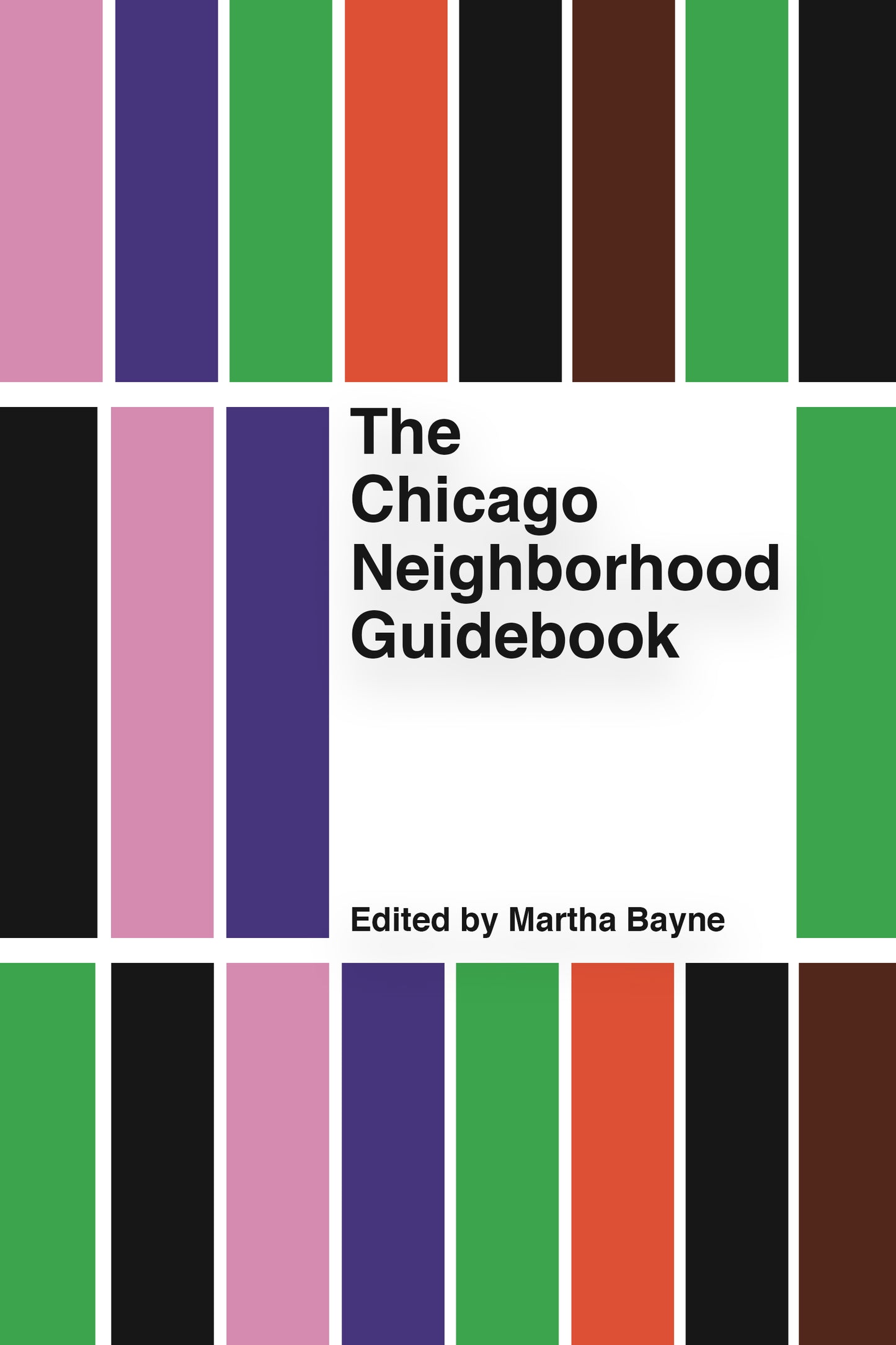 Special Offers and Discounts

Keep up with the newest title, sales, and events (plus the occasional meme) from Belt Publishing by signing up for our newsletter. It's only once a week—no cluttering up your inbox.