Boys Come First
Regular price
Sale price
$17.95 USD
Unit price
per
Sale
Sold out
By 
Aaron Foley
May 31, 2022
"Foley's love for his city and his engaging characters shines through, and his novel is funny, naughty, and comforting. This auspicious debut will leave readers eager for more." —Publishers Weekly (starred review)
This hilarious, touching debut novel by Aaron Foley, author of How to Live in Detroit Without Being a Jackass, follows three Black gay millennial men looking for love, friendship, and professional success in the Motor City. 
Suddenly jobless and single after a devastating layoff and a breakup with his cheating ex, advertising copywriter Dominick Gibson flees his life in Hell's Kitchen to try and get back on track in his hometown of Detroit. He's got one objective — exit the shallow dating pool ASAP and get married by thirty-five — and the deadline's approaching fast.
Meanwhile, Dom's best friend, Troy Clements, an idealistic teacher who never left Michigan, finds himself at odds with all the men in his life: a troubled boyfriend he's desperate to hold onto, a perpetually dissatisfied father, and his other friend, Remy Patton. Remy, a rags-to-riches real estate agent known as "Mr. Detroit," has his own problems — namely choosing between making it work with a long-distance lover or settling for a local Mr. Right Now who's not quite Mr. Right. And when a high-stakes real estate deal threatens to blow up his friendship with Troy, the three men have to figure out how to navigate the pitfalls of friendship and a city that seems to be changing overnight.
Full of unforgettable characters, Boys Come First is about the trials and tribulations of real friendship, but also about the highlights and hiccups —late nights at the wine bar, awkward Grindr hookups, workplace microaggressions, situationships, frenemies, family drama, and of course, the group chat — that define Black, gay, millennial life in today's Detroit.
Aaron Foley's reporting and writing on Detroit, blackness, and queerness has appeared in This American Life, Jalopnik, the Atlantic, CNN, several anthologies, and the PBS NewsHour, where he is currently a senior digital editor. A Detroit native, the city's first appointed chief storyteller, and a former magazine editor, he is the author of How to Live in Detroit Without Being a Jackass and editor of The Detroit Neighborhood Guidebook. He currently lives in Brooklyn's Bedford-Stuyvesant neighborhood.
Cover design by David Wilson.
ISBN: 9781953368256/Paperback/386 pages/May 31 2022. 
Media inquiries: please contact Phoebe Mogharei at phoebe@beltmag.com 
Praise for Boys Come First: 
One of the most anticipated new releases according to Bustle, Buzzfeed, Goodreads, The Millions, LGBTQ Reads, Chicago Review of Books, Insider, Fangirlish, Yahoo News, We Are Bookish, and Liberation is Lit
On Detroit Public Library's "2022 African American Booklist"
"Mr. Foley's debut unfolds the romantic and professional misadventures of this group in the dishy, funny style of Armistead Maupin and Candace Bushnell, albeit with even more cheerfully raunchy sex. . . . Mr. Foley knows the Motor City as intimately as he knows the workings of dating apps like Scruff and Grindr, and he details both with the swagger and fluency of a quality TV script. The only mystery, in fact, is which will come first: the HBO option or the sequel." —Sam Sacks, Wall Street Journal
"Foley's novel shows range, with its fun, silly and pathos-filled handling of the love-and-sex storylines, serious commentary on social issues and an endearing representation of sincere (if troubled) friendships. Unforgettable characters, madcap fun and mishaps converge in this sweet and, finally, aspirational story." —Julia Kastner, Shelf Awareness
"Funny, contemporary and often amusingly raunchy, Boys Come First feels almost revolutionary in the way that Dominick, Troy and Remy aren't made to experience the kind of suffering over sexual orientation that once seemed a hallmark of queer literature. Foley gives us characters who are comfortable as gay men and proud to be Black men, but are still flawed, very human, wise and foolish in roughly equal measure." —Patrick Condon, Star-Tribune
"Uproarious, sharp, sober, biting, bumpy, bruising, hip, and real. Aaron Foley's Boys Come First moves along with a graceful self-assurance, spot-on characterizations, and a genuine assessment of extraordinary, yet mundane plight of Black queer men—how we must navigate the world, protect ourselves from violence and cruelties, construct our own safe spaces, and stitch together community from the strands of chosen family. This book is so brutally honest that it's hard to believe that it's fiction." —Robert Jones, Jr., author of New York Times bestseller The Prophets
"Sharp characters and a striking depiction of friendship." —Kirkus Reviews
"Detroit shines here right alongside this best buddy trio of enchanting, fully realized Black men. Foley's debut will certainly be a sleeper hit this spring and should put him on the map as a writer to watch." —Jim Piechota, the Bay Area Reporter 
"Aaron Foley's fantastic debut is a hilarious and heartfelt story of friendship, family, longing, and lust, wrapped in a beautiful love letter to Detroit. You can't help but root for Millennials Dominick, Remy, and Troy in all their messy magnificence. Fans of Terry McMillan and E. Lynn Harris especially will rejoice at Foley's smart, evocative prose. I devoured this book. And bonus: Reading Boys Come First made this Gen Xer feel just a little bit cooler." —Deesha Philyaw, The Secret Lives of Church Ladies
"Boys Come First is a joy from start to finish. In telling the story of three millennial gay Black men and their friendships, relationship struggles, and career obstacles, Aaron Foley has written one of the most realistic queer novels I've read in years. He allows his characters to be funny, sexy, and messy, while intelligently addressing major issues like the gentrification of Detroit. Never didactic and constantly entertaining, this book is both smart AND steamy." —David Vogel, Buzzfeed
"Imagine the thirtysomething angst of Insecure meeting the queer Black friendships of Noah's Arc intersecting with the dating dilemmas of Waiting to Exhale all rolled up into the dynamics of a gentrified Detroit... and you've got Boys Come First. It's a fun novel that will have you eager to turn every page or scroll to the next screen to find out what's coming next for Dominick, Troy, and Remy." —Frederick Smith, Busy Ain't the Half of It 
"My God, Aaron Foley's Boys Come First is an exhilarating debut! I'm obsessed. Sexy, heartfelt, unapologetically queer, and deliciously funny, this novel about friendship and finding love (in others and for oneself) in rapidly gentrifying Detroit really has it all. An absolute joy." —Chris Gonzalez, I'm Not Hungry but I Could Eat
"A Sex and the City meets Waiting to Exhale about millennial gay Black men, Boys Come First is full of sharp-edged shade, raunchy sex, boozy good times with ride-or-die friends, hints of love and vulnerability and even a few five-hankie moments toward the end. That it's set in the rapidly gentrifying city of Detroit by someone who knows the city inside-out only adds to the richness. I rarely say this, but once I started it I could not put it down and finished it in two nights. Equal parts sassy and sweet and a completely satisfying, very up-to-the-minute read." —Tim Murphy, Christodora and Correspondents
"It's all fun and games with friends Remy, Dominick and Troy until they hit their 30s. As their fraught situationships and sexy entanglements start to reveal hard truths about themselves, the friends must deal with life's hard questions. Foley has written a delicious romp about the game of love. But at its core, Boys Come First is a laugh out loud story about Foley's first love—the city of Detroit." —Desiree Cooper, Pulitzer Prize–nominated journalist and author of Know the Mother
"Boys Come First [is] an account of three Black gay friends in Detroit that upends popular expectations about race, class, gender, sexuality, and masculinity. Foley's novel evokes Brian Broome in its hilarious and very millennial perspective on what it means to be a 30-something as the first quarter of this century comes to a close, a love letter to gay Michigan, which receives less attention than New York, San Francisco, or Atlanta." —Ed Simon, The Millions

"Foley creates a rich setting and strong characters. . . . Readers who enjoy character-driven romance, especially LGBTQ+ fiction, will appreciate this book." —Library Journal
"Foley's deep love for his hometown is apparent in the ways he contextualizes Detroit's history and what people living in the city today face. The rapid state of redevelopment, gentrification, and other changes impact his characters' community and the city at large." —Alamin Yohannes, EW

"Perhaps from the outside Detroit might look like a humorless place. A native of the city, Foley shows us just how untrue that is. . . . Boys gives readers an inside view of the city and Black culture that can be radically different from the ones often portrayed in the media. This book can take you to a world much more beautiful and strange." —Drew Philp, Shepherd
"Inspired by some of Foley's own friendships, experiences, and desire for better representation in gay literature, Boys Come First aims to fill that gap—and it might just be the first great gay novel about being Black, queer, and millennial in Detroit." —Michael Collina, Audible
"The three main characters, Remy, Troy and Dominick, may be fictional, but there is no doubt that their stories are those of the many Black queer men who live them out every day." —Kenny Williams, Jr., Blavity
"The storyline luxuriates in the Motor City, as it explores the bonds of friendship, gentrification and the idea of Old Detroit vs. New Detroit." — Jill A. Greenberg, Between the Lines
Share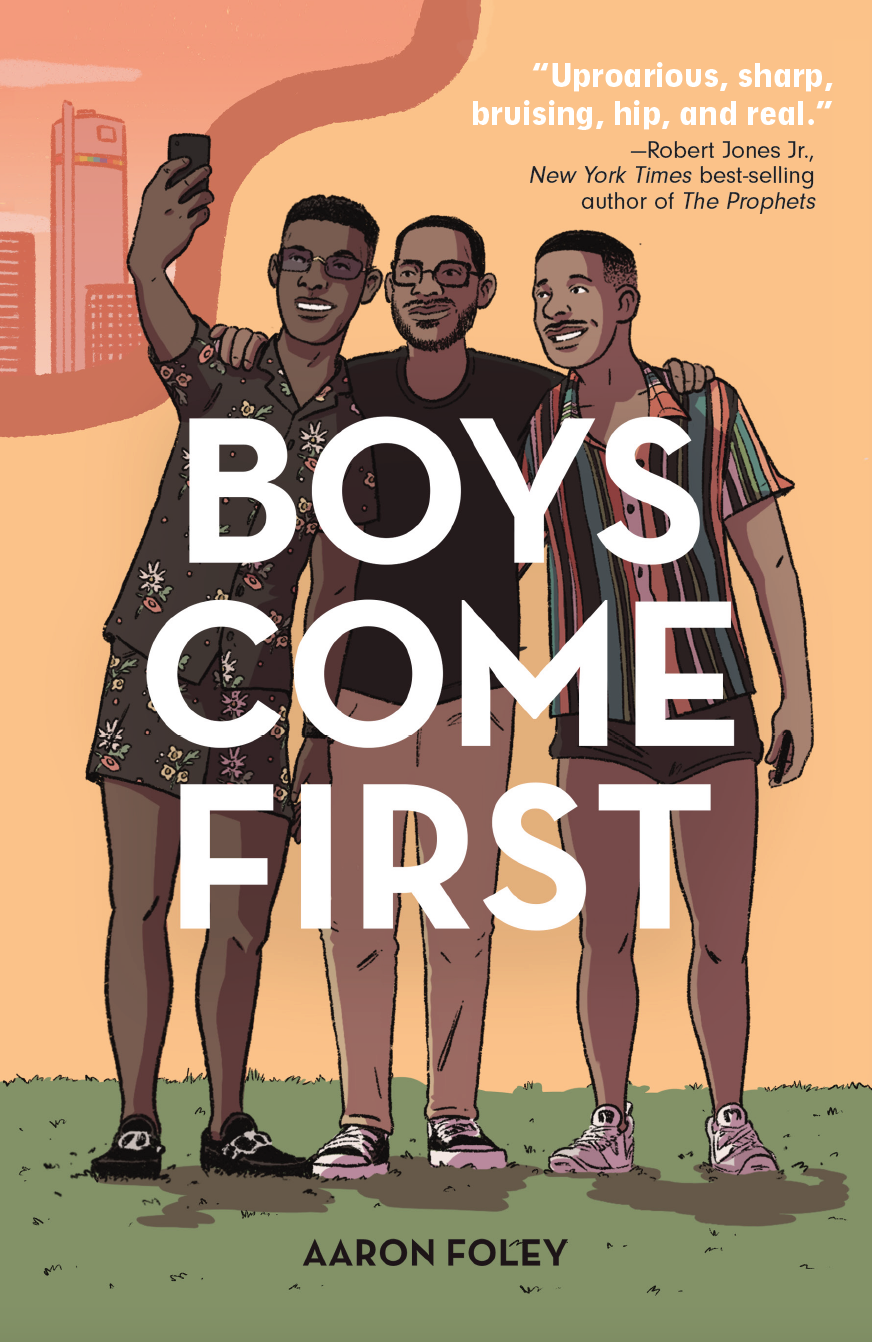 Special Offers and Discounts

Keep up with the newest title, sales, and events (plus the occasional meme) from Belt Publishing by signing up for our newsletter. It's only once a week—no cluttering up your inbox.